Nicolas Lenze   10.19.22 I don't even know how many tents I've gone through but the number would probably account for about half of my fingers. Bei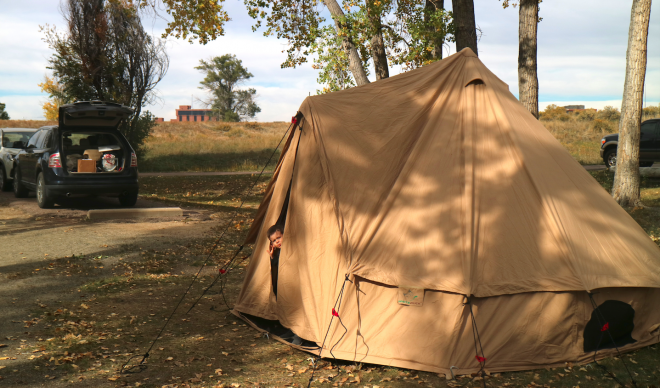 I don't even know how many tents I've gone through but the number would probably account for about half of my fingers. Being young and broke, I would buy the cheapest tent I could find and thrash it. Now that I'm older and still broke, things have changed. With age comes wisdom, and I'm now wise enough to understand the importance of quality items that will last longer. Applying this to my tent issue, I began looking for something on the higher end, but needed it to still be within a reasonable price range. I'm looking at this as an investment. I found myself on the White Duck Outdoors website and decided to give them a whirl. White Duck was nice enough to send over a 13' Regatta Bell Tent. Let's take a look at it.
White Duck Outdoors 13′ Regatta Bell Tent: Specifications
Diameter: 13′
Height: 8'2″
Capacity: 6
Material: DYNADUCK cotton canvas
Weight: 66 – 71 lbs
MSRP: $799.99
First Impressions
My apartment building forced us all to pay for this package delivery room. Every time I get a package, I have to cross the street, go into the front office, put in a code, grab what's likely a box of diapers, then head home. So, imagine my surprise when the delivery fella knocked on my door. I opened the door, and before me stood a massive cardboard box next to a very sweaty driver. The sweat made sense when I attempted to drag the box inside while simultaneously keeping a toddler, infant, and cat from going outside. First on the list of impressions is the size and weight. I'm not complaining. I just didn't realize what I was in for and how much space I would need to store it.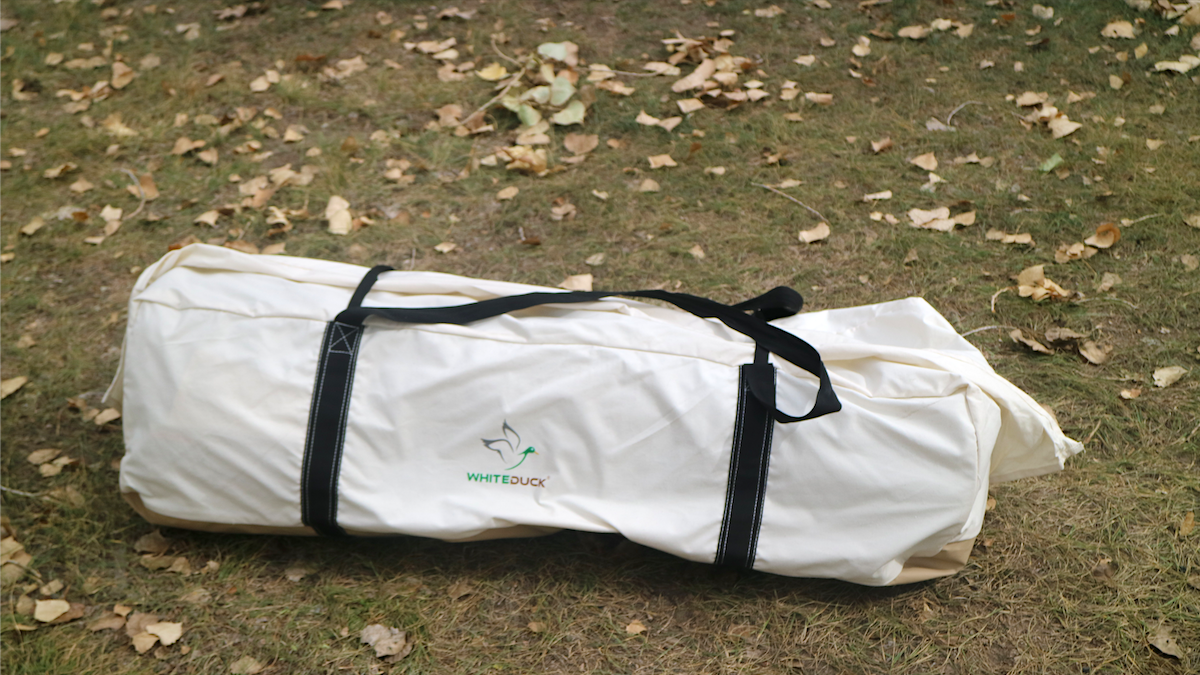 After the initial shock wore off, I opened the box to take a quick look at the tent. I got the Beige color. The other options are Brown, Olive, and Charcoal. I rubbed the canvas between my fingers and felt the difference. I'm so accustomed to what's basically plastic that this material felt like pure luxury. I got very excited and booked a campsite that night.
Down And Dirty: Camping
I got to the site right on time and began to set up. I set a timer to see how long the setup would take me. My wife has fond memories of me fighting to put together a two-person tent, so you can imagine how big of an undertaking this was for me. From opening the zipper to putting my hands on my hips and exhaling, the setup took me just over an hour. The manual does tell you to practice before taking it camping, but I didn't have the time or space to do so. With a hard-earned beer in my hand, it was time to unload the gear.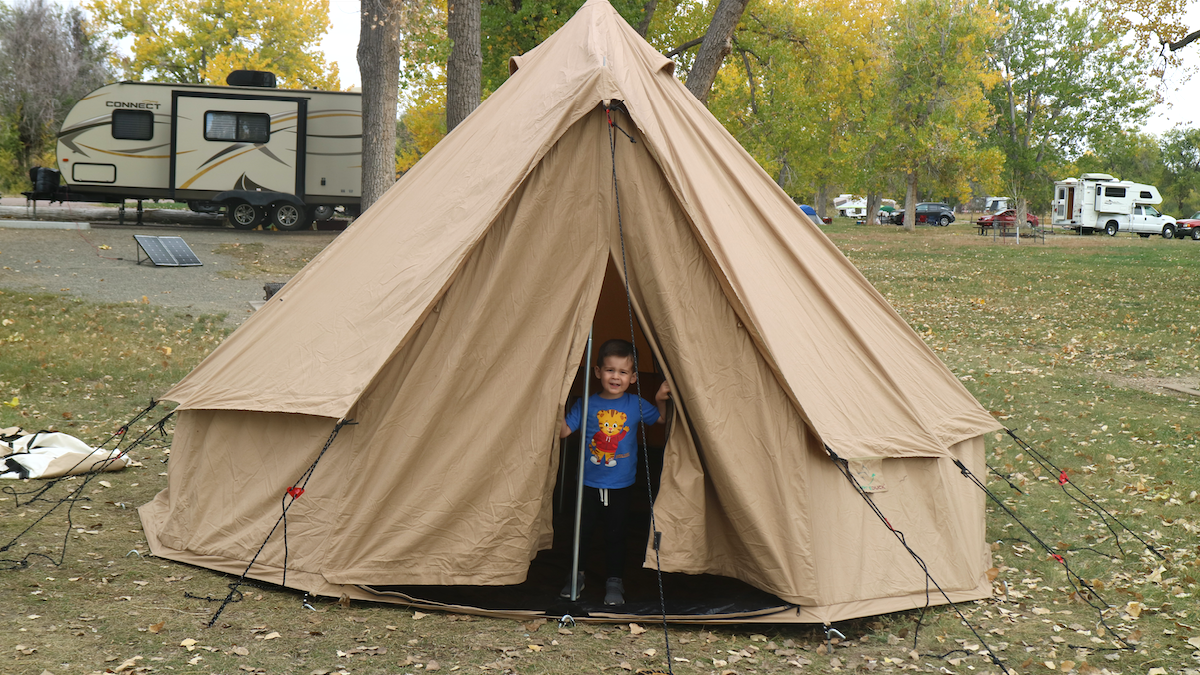 The interior of the tent feels like a palace. I've never had this much room in a tent. I know that the execution isn't perfect here, but there are always challenges when setting up shelter.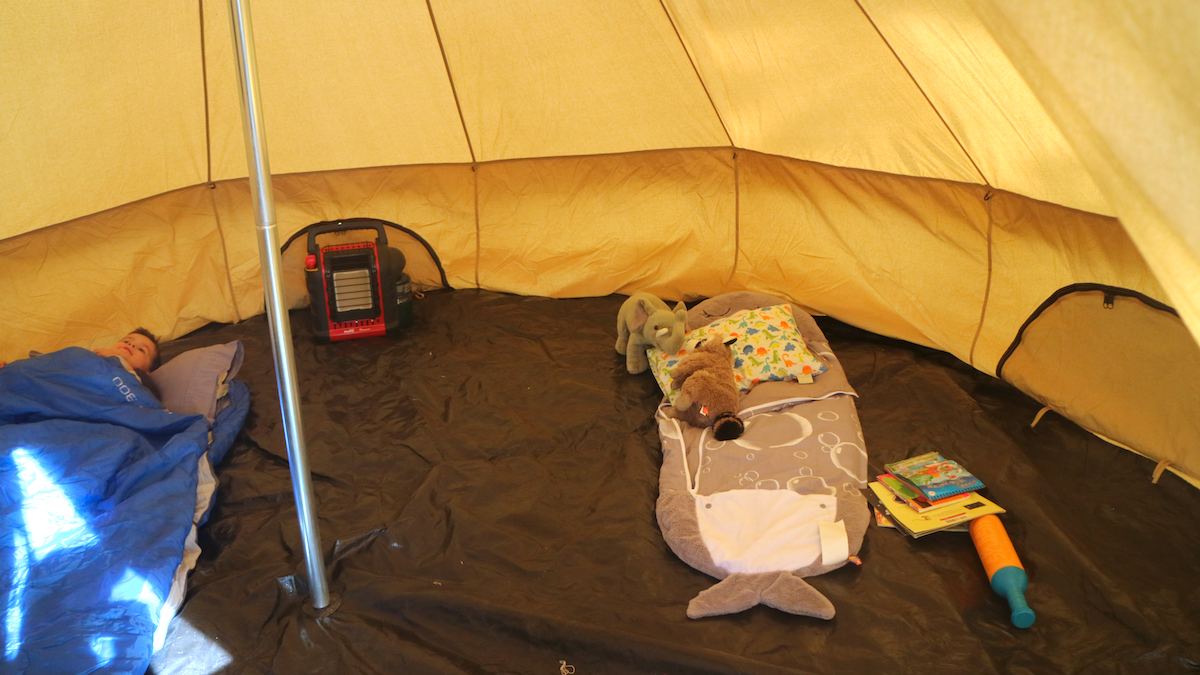 It was just my son and me staying the night on this trip, so with two sleeping bags and a few bags and boxes, we had a ton of room. Being accustomed to walls that are essentially plastic, the canvas material was a huge step up. The seams were solid, the material was thick, and that goes a long way for confidence in your equipment.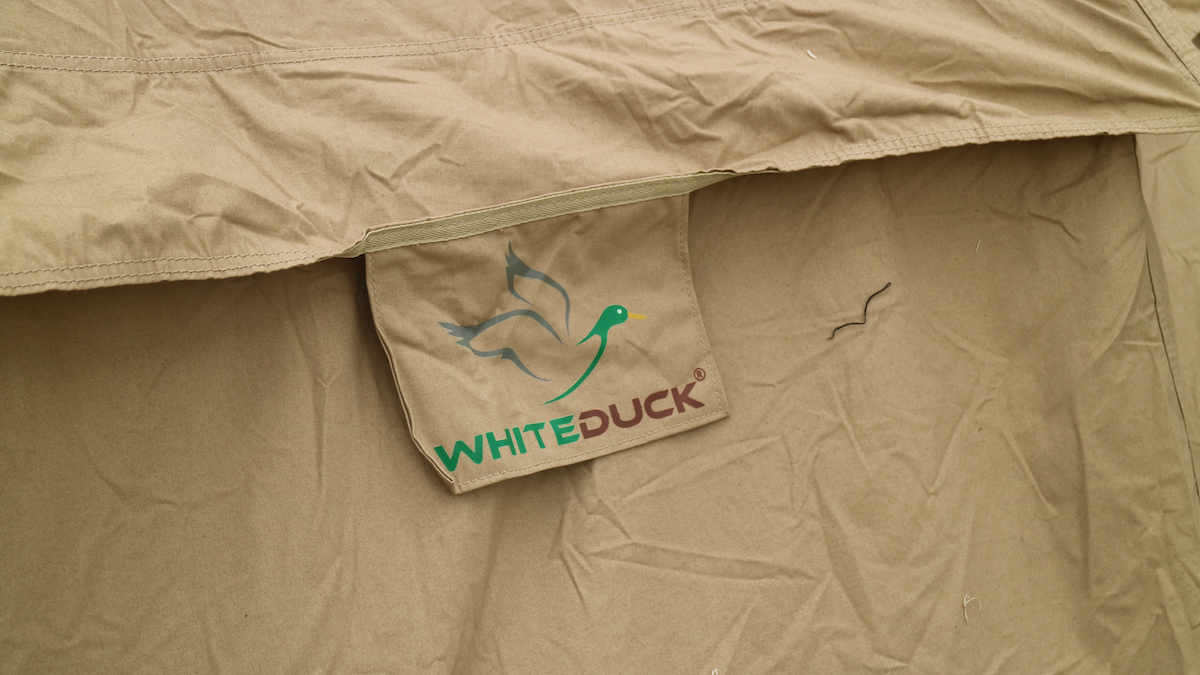 The waterproof three-way zippers were on-point. They were robust and easy to use, even with a three-year-old mangling them any chance he got. 
Good times were had, goose tacos were served, and the moon went down. Unfortunately, small children tend to wake up much earlier than I like to. This means that morning started before the sun had risen from his slumber. Cold, tired, and a one-man show, I began to break down and pack up.
To break the tent down, I just did everything in reverse. Trusting that the center and door poles won't come crashing down on my dome took a while but I got there. They were actually quite stable throughout the day and night.
The Setting Sun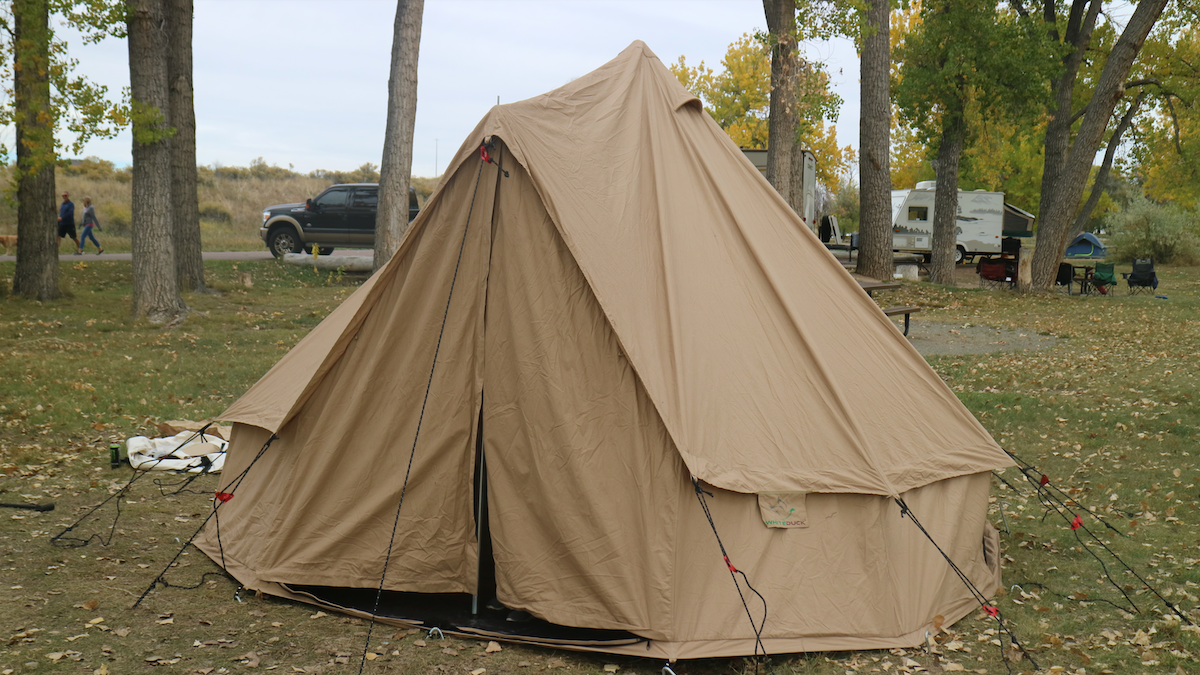 The White Duck Outdoors 13′ Regatta was a complete departure for me and it's one I'm glad I took. Set-up took me a while, but now that I've done it once, I'm confident that I can cut my time in half.
There is so little that I disliked about this tent, so let's start there. My only complaint is actually anger toward society. When, as a species, did we decide that stakes should have rounded striking surfaces? The stakes were heavy-duty and took quite a bit of force to get into the ground. This would be a great thing if they were easier to hit and there weren't so many of them.
Ultimately, any tent that you buy will probably function well enough, but the level of enjoyment is what it all comes down to. This may sound like a joke but I assure you it is not. My favorite part of this bell tent is the bag that it comes in. Packing tents back up is not a fun activity. This is even more true when you can't get the tent back into its tiny case. Not here, my friend. I very crudely rolled up the Regatta and smashed it into the bag with ease. White Duck left enough room in the bag for those of us who hate re-rolling a tent in the dewy morning grass. This shows thought.
I think the Regatta would also work great as an area for impromptu backyard camping with friends and family. Leave it up as a semi-permanent structure, and it would be a perfect place to create some memories.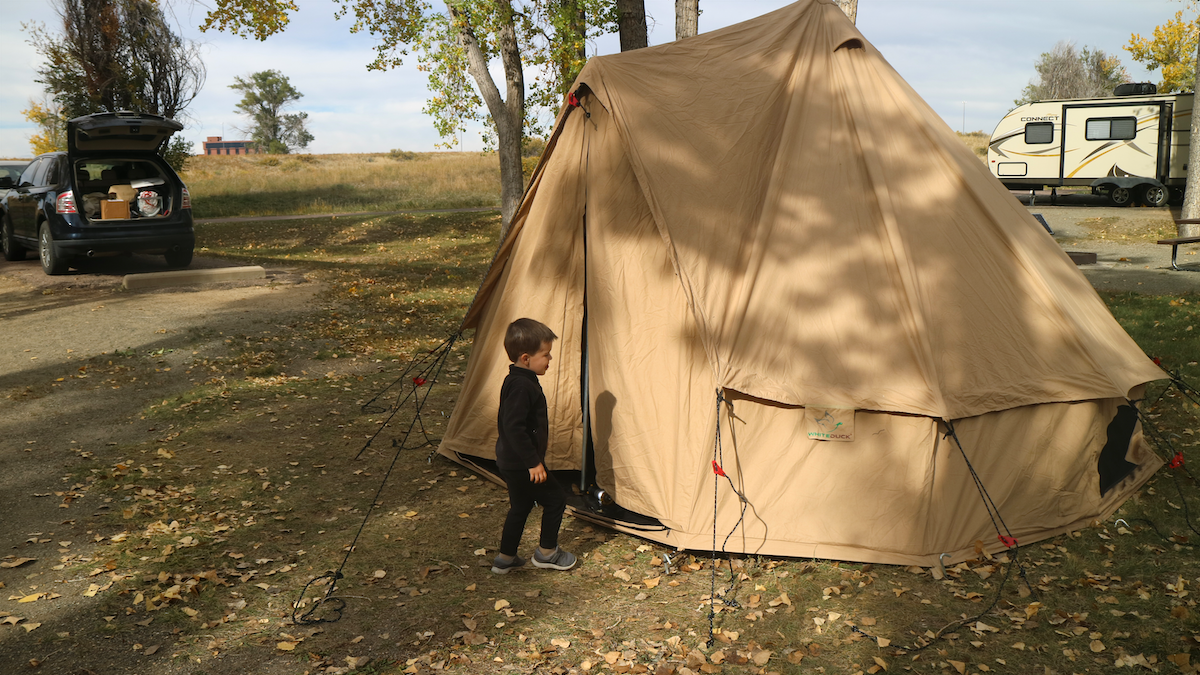 If you're interested in learning more about the Regatta Bell Tent, head over to the White Duck Outdoors website. You can also follow along with the company on social media. they can be found on Facebook, Twitter, Instagram, Pinterest, and YouTube. Keep camping and doing rad stuff with the people you love!