Interested in a camping meal that you can eat where ever on Thanksgiving? Try the Trailspoon Thanksgiving Camping Meal! It's difficult to tell you
Interested in a camping meal that you can eat where ever on Thanksgiving? Try the Trailspoon Thanksgiving Camping Meal! It's difficult to tell your family that you're going to be out in the woods on Thanksgiving rather than tolerating relatives and avoiding falling asleep before halftime. Luckily while being out on trail, I'll have some food that will remind me of the warmth of home and the flavors of turkey day!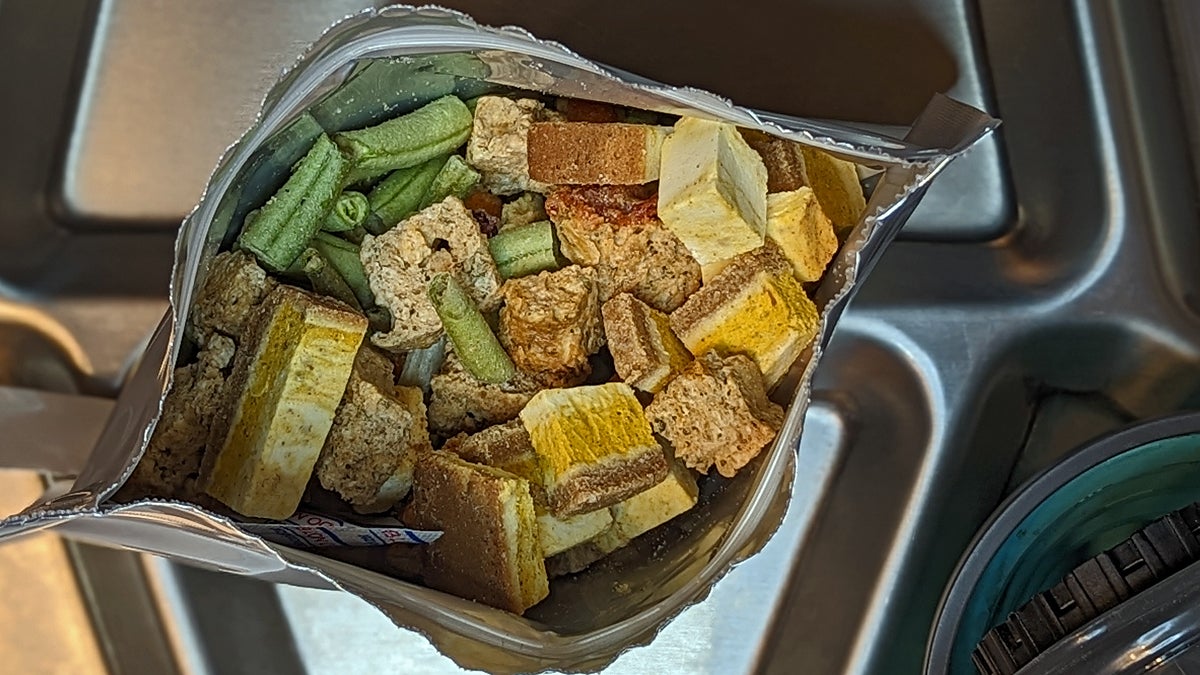 ---
Welcome to our recurring series of "The Path Less Traveled." In this series, we want to take you along for our exploits out in the wilderness while hiking, camping, exploring, and general adventuring. This will include our small daily victories, foibles, tips, tricks, and reviews of gear we authentically appreciate and frequently utilize. While a well-worn trail can often be the pathway to a leisurely day, the paths less traveled can often spur on some of the greatest memories, misadventures, and fun we could imagine. Join us in the Comments as we share our travels and hopefully, we can all come together for a greater appreciation of the outdoors.
---
Mmm… Chomp on this Food Coverage
Full Disclosure, I started Trailspoon in September, 2022 to begin selling freeze dried camping meals. After experimenting with 26 different batches in the Harvest Right freeze dryer, it was time to start making meals for others to enjoy. Products can be found on Trailspoon.com.

---
Heading out on a Virginia trip this Thanksgiving weekend to section hike part of the AT as hunting season will be in full swing and I don't react well to bullets. Most of my local hiking and mountain biking areas, even if designated are too sketch to hike during hunting season.
We all know family get-togethers are either great times where you carouse around the dinner table and TV while enjoying each other's company… or a time where Uncle Carl brings up weird stories and racist remarks about coworkers he probably secretly has murdered. Luckily, my family gets along well and missing their company and food is a big deal this holiday. Fortunately, I have developed a meal that will bring a taste of home out to the trail!
Turkey Meatloaf
In previous tests and experiences with freeze drying meats, I have found that chunks of meat cut up and just freeze dried are not the tastiest thing, as unseasoned meats can be bland. We all know my abhorrence for any camping meals that contain more than 1000mg of sodium of per bag, so balancing flavor and still having a fall turkey as the main protein was tough.
Luckily, I was able to decide upon a turkey meatloaf with enough flavors to sway even the mightiest meatloaf naysayers. Five pounds of lean ground turkey was used to reduce oils and fats which can decrease the shelf life of a product.
"But why didn't you use beef?"
93/7 beef is not inexpensive in 2022, and with the thanksgiving theme, turkey was a wise choice. The level of protein it provides out on trail will ensure one's stomach stays full and atrophy will not be considered! Sautéed onions, garlic, along with eight locally sourced eggs and ten ounces of bread were added.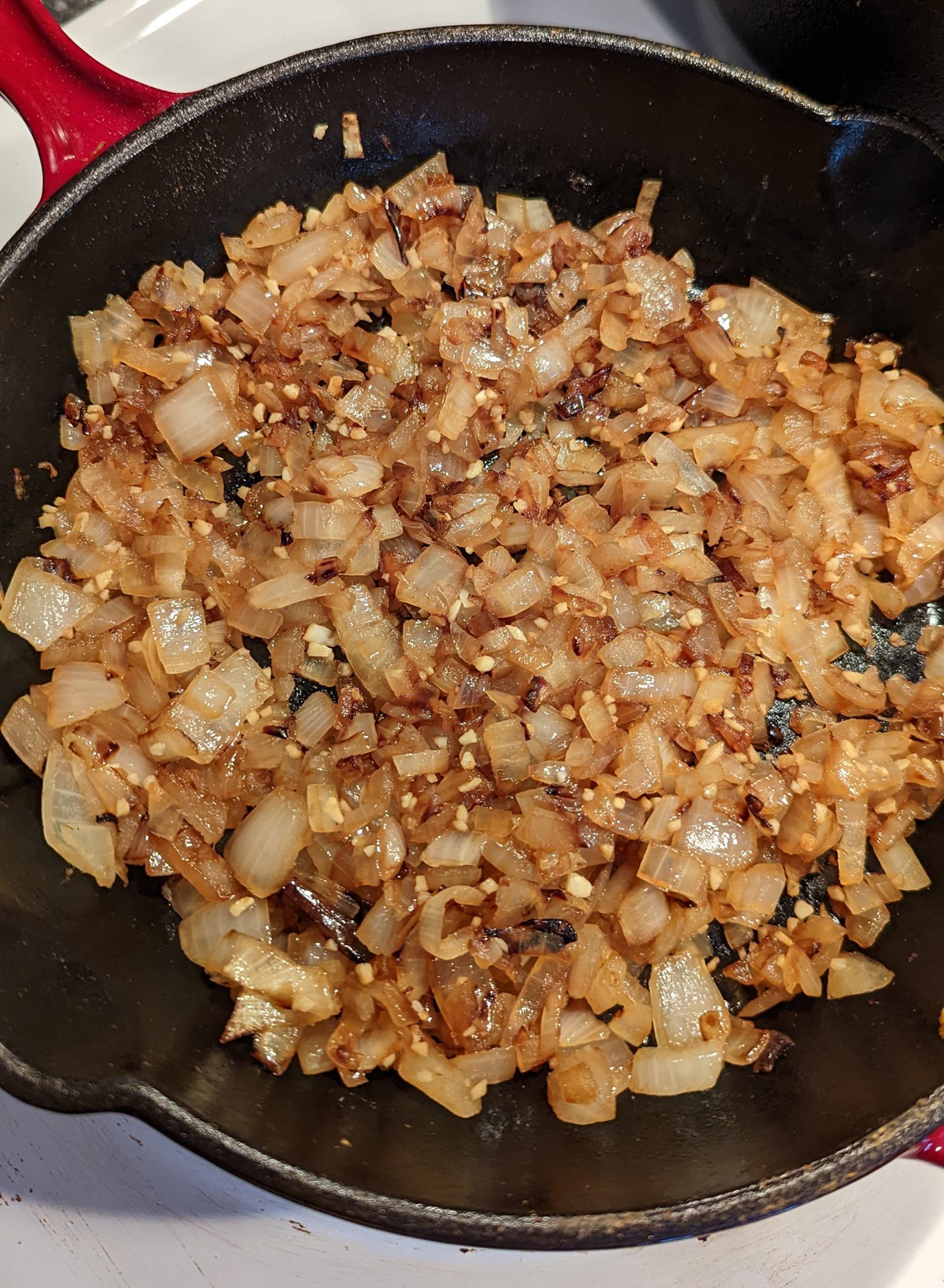 To top this loaf of meat, I used a secret recipe passed down from generation to generation Google but added my own twist. Half a cup of ketchup, half a cup of dark brown sugar, and as much Sriracha as you want. This topping gets a touch crispy, and adds a sweet and heat to the savory portion of the meal. You could also say it adds a bit of acidity to round things out.
The meatloaf came out fine, and took about 26 hours to freeze dry. To ensure the food was as dry as possible, I flipped all of the slices after the first freeze dry run, and added two hours. A few taste tests of the largest piece per tray confirmed they were dry!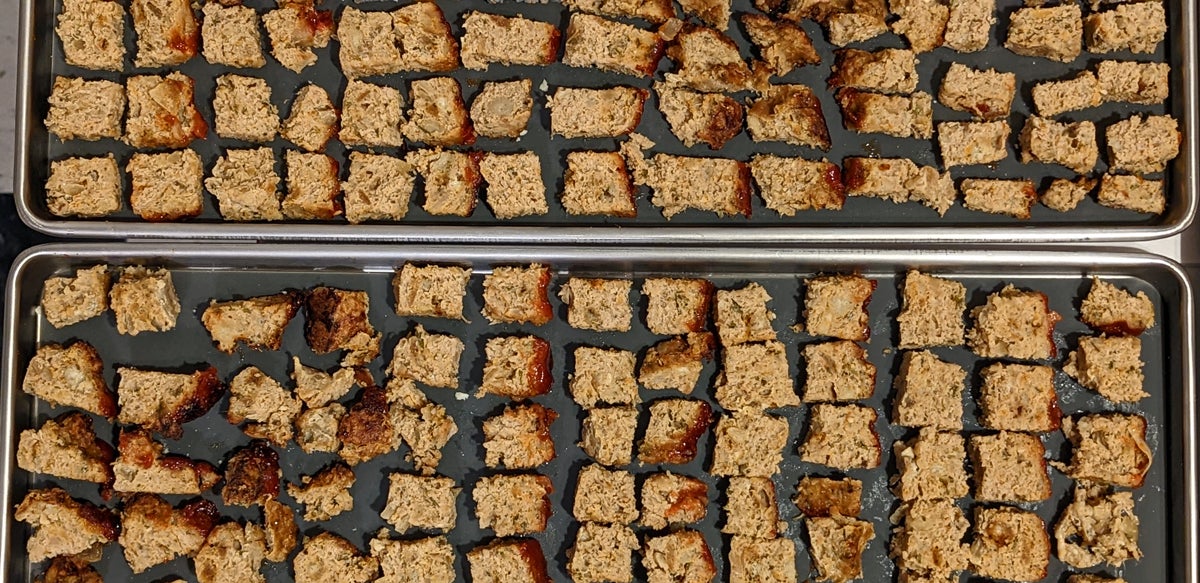 Stuffing
There are many base carbs that are used in hiking meals. I'm sure we all can think of a few like couscous, rice, pasta, etc. When testing out various multi-ingredient meals, I tried freeze drying Stouffer's Roast Turkey with Stuffing, Mashed Potatoes and Gravy. The mashed potatoes became very delicate puffs of air, and the gravy was also delicate and flaked apart if touched at all. When eating a meal with a protein and vegetable, I find it becomes an unrecognizable mess.
By using a starch for carbs that is does not turn to mush was secondary to having Thanksgiving vibes to this meal. To ensure shelf stability, I skipped adding oil to the stuffing, but did use organic chicken broth to help flavor the stuffing beyond what came in the box.
Several handfuls of carrots and celery were added to increase mise-en-place flavor, as well as add a bit of fiber to the meal!
It took 30 hours, 47 minutes to fully freeze dry the stuffing and green beans in the same batch on mostly separate trays.
Green Beans
When thinking of Thanksgiving vegetables, my mind goes straight to corn, green beans, leafy greens and asparagus. Luckily, I had tons of green beans frozen from the garden this year.
Reheating the green beans with bacon, onion, and some reduced sugar cranberries doesn't make this a green bean casserole, but it definitely has those holiday vibes and flavors!
Pumpkin Cheesecake
When hiking in Ohio, two of my prototype camping meals I made had cheesecake bites added in. These were such a morale booster, I completely disregarded the idea of a pumpkin and/or sweet potato pie and went with a Sam's Club Pumpkin Cheesecake.
Yeah, I know… Being lazy not hand crafting my own cheesecake from organic cream cheese, etc. What will I ever do?!
Forget that, this cheesecake is amazing and only took 20 hours to fully freeze dry due to the small sizes I cut it into.
---
Observations
Opening the Trailspoon Thanksgiving Camping Meal revealed bright vegetables and Minecraft shaped blocks of meat, cheesecake and stuffing.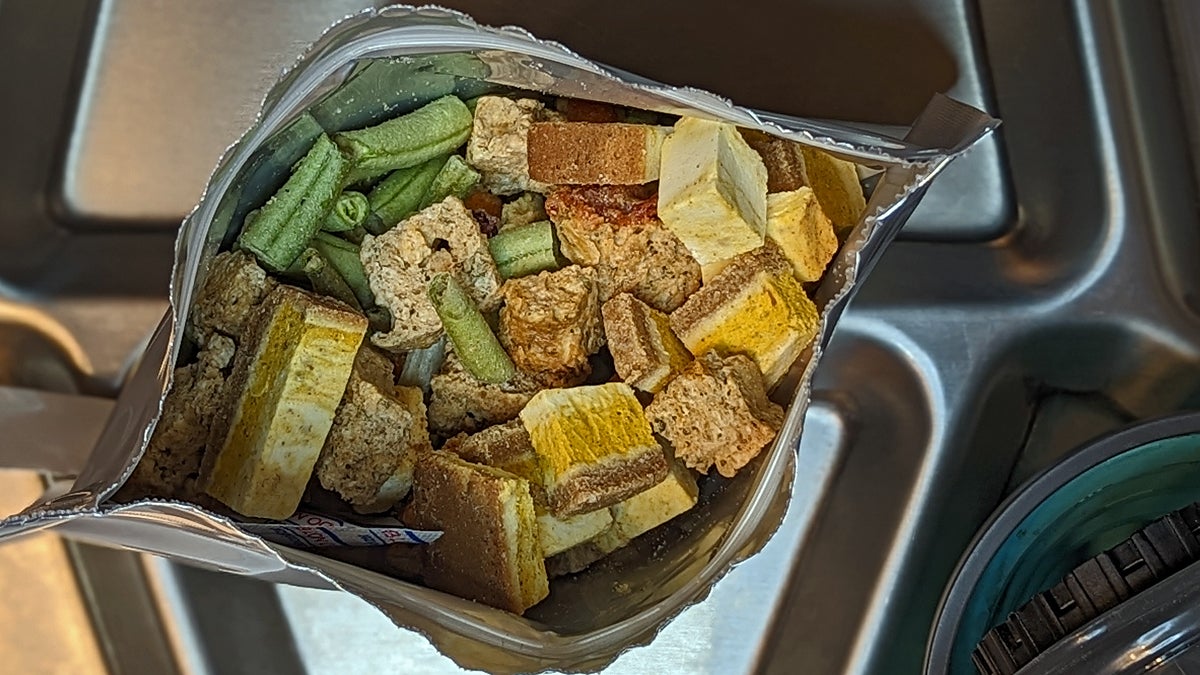 The uniformity of it all made it somewhat difficult to pick out all of the cheesecake bites. These were picked out as they are intended to be eaten while waiting for the meal to reconstitute, or after having the meal as a tasty dessert! I don't think I'd like keeping the cheesecake pieces in the pouch when rehydrating the rest of the food.
The crust has a strong crunch and the dense cheesecake is heartwarming and decadent. I could eat these by themselves at any time!
While the meatloaf was not the first multi-ingredient food I have freeze dried, it was the largest amount of food I placed in the machine at one time. While poultry MREs can be hit or miss (Anyone try a Chicken a la King?), I had confidence the rehydration of a well porous mixed protein would do well.
Alas, it did! When putting seven or seven and a half ounces of boiling water in the retort pouch, the meatloaf resumed its soft and flavorful texture. While I was impatient and didn't full wait ten or fifteen minutes like most freeze dried backpacking meals state is needed, only two pieces could have taken a bit longer to reconstitute. The ketchup topping remained on the meatloaf and provided a bright bit of tang and heat!
The stuffing with carrots and celery rehydrated ideally! I've seen people out on a trail just dump stove top into a cup of boiling water and chow down before, but I had never tried it.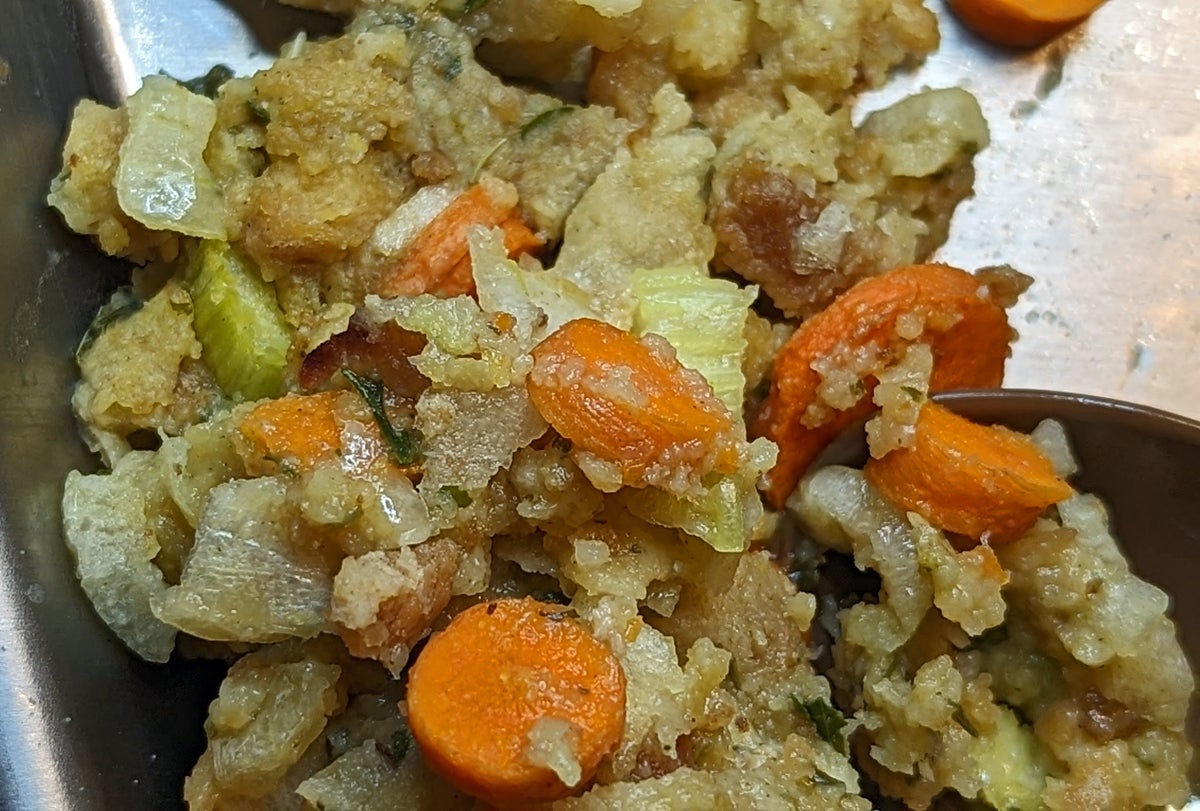 Having a textural variety between vegetable pieces and the bits of bread in the stuffing was welcoming and rounded out that holiday feel while filling my stomach.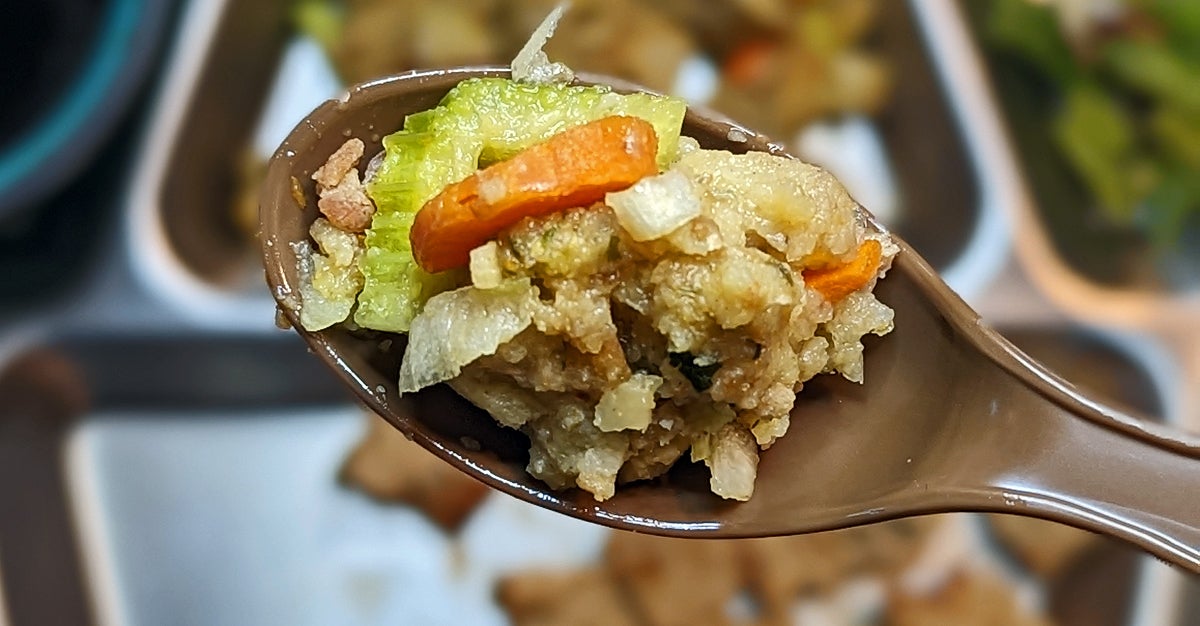 From prior studies and vegetable tests, I know that green beans rehydrate well, but I was unsure whether they would still have the bacon taste from cooking them with chipped up bacon to add that touch of flair.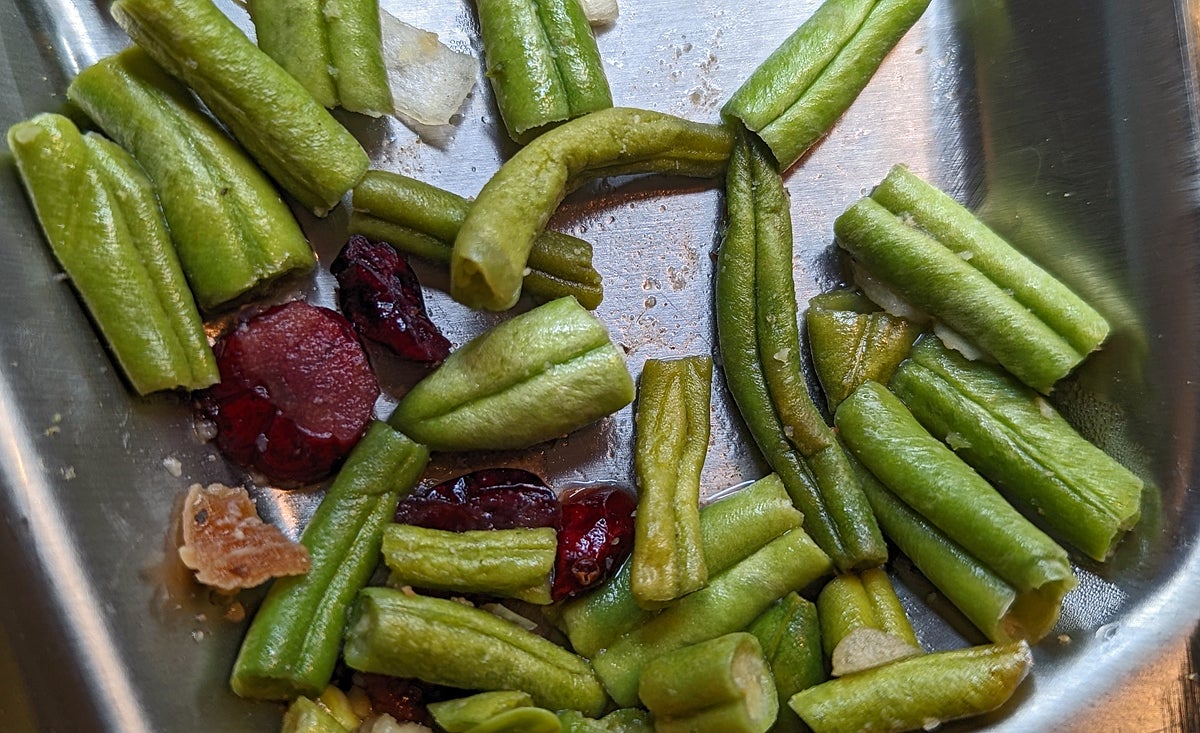 Bacon also provided the salt needed without having to add extra salt! Green beans were great and bacon flavor was present. Bacon pieces were a bit hard to find, but were tasty treats when they touched the tongue. I mean, who doesn't want more bacon in things?! The craisins had a candy-like texture to them and did not rehydrate well.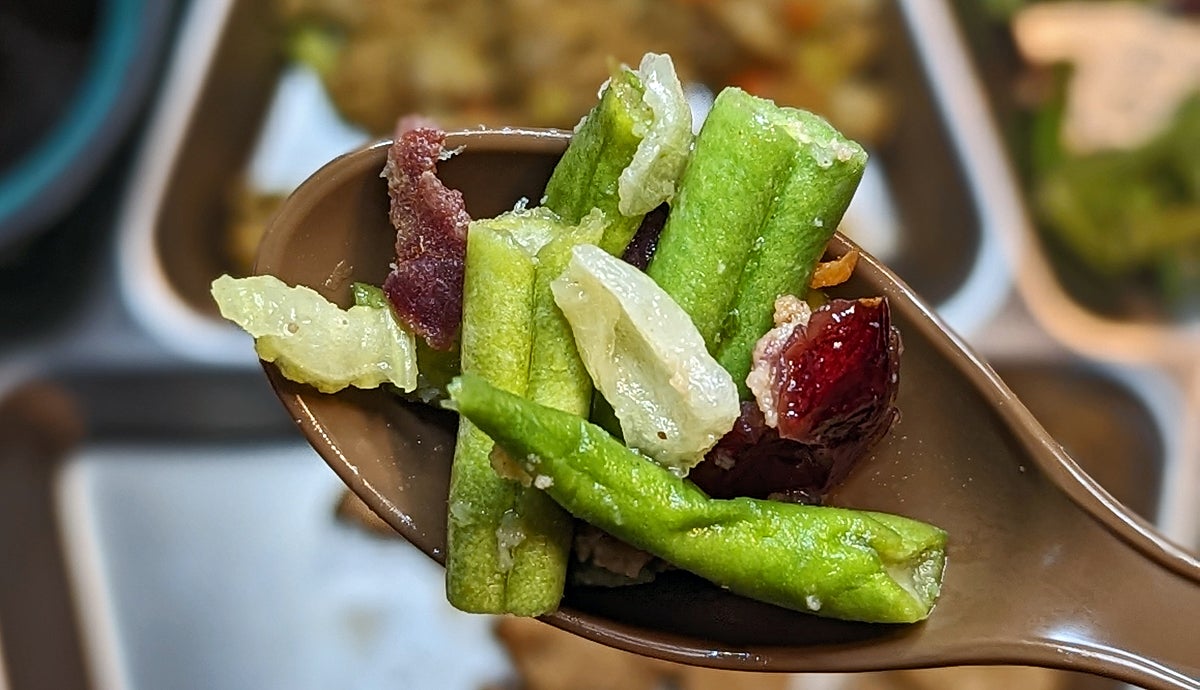 I think if I added them to something else, I would mince them or keep them out as they just didn't get soft. They were tasty, but remained a bit chewy and tough. This was possibly the only downside to the meal. That and not enough bacon.
While I had to eat one of these to ensure my freeze drying methods worked well, I enjoyed eating every portion of this meal. The main dish had enough too to keep me full, and snacking on a few of the cheesecake bites before and after dinner was the way to go to prevent a sugar overdose.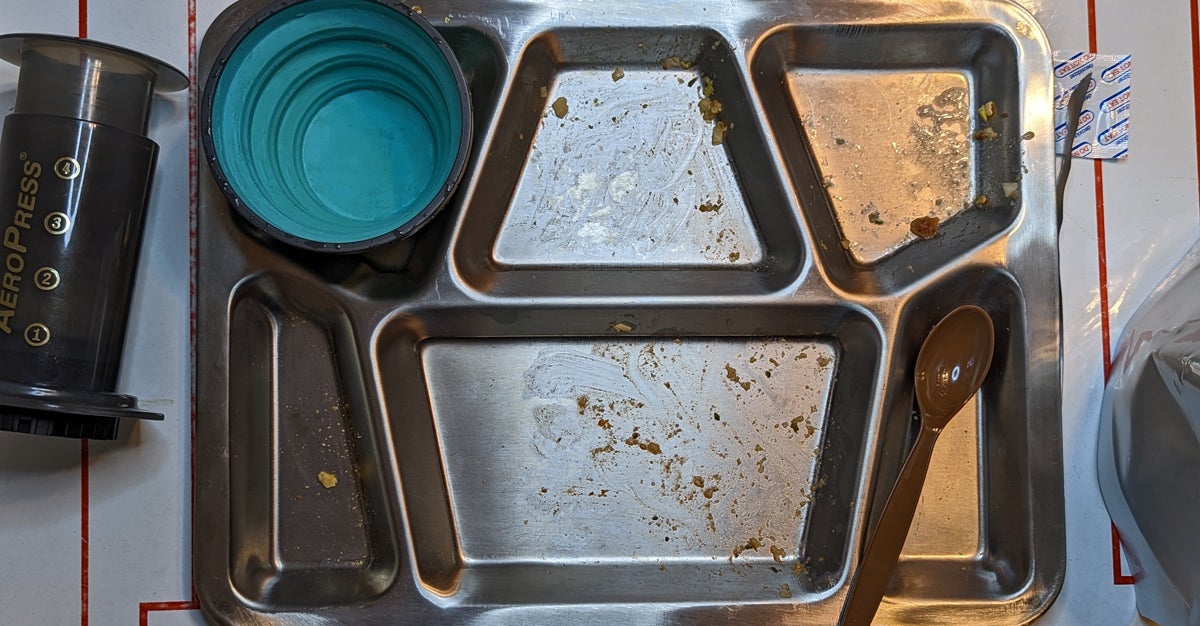 Would I eat it again outdoors? Zero doubt.
Would I eat it at home? I can't say no.
Overall Rating: 87/100. I'm proud of my first meal and expect to do better with every meal forward!
---
Comparison
There are no real holiday based meals to compare to. I have found three meals that are similar in price, ingredients or caloric content.
Backpacker's Pantry Pad Thai – $15.89
6.2 oz, 730 calories. Ingredients: Rice noodle, sauce, organic cane sugar, white vinegar, savory soup base, organic textured soy protein, peanut butter, dry roasted peanuts, red bell pepper, sriracha powder, tomato powder, green onion, non-gmo crystallized lime
Peak Refuel Homestyle Chicken and Rice – $13.99
5.15 oz, 740 calories. Ingredients: Creamy chicken sauce, vegetarian chicken bouillon, enriched instant white rice, cooked diced seasoned chicken white meat
Heather's Choice Grass-Fed Beef Shepherd's Pie – $15.95
4 oz, 510 calories. Ingredients: Grass-Fed Ground Beef. Onion. Dehydrated Potato Flakes. Dried Mushrooms, Green Beans, Corn, Carrots. Balsamic Vinegar. Tomato Paste. Garlic. Buttermilk Powder. Butter Powder. Tapioca Flour. Sea Salt. Parsley. Thyme. Rosemary. Black Pepper.
---

SKU: 1124
MSRP: $18
Ingredients – Meatloaf: Lean Ground Turkey, Eggs, Italian Bread, Ketchup, Brown Sugar, Sriracha, Salt, Seasonings. Stuffing: Carrots, Celery, Whole Wheat Flour, Dehydrated Onion, Sea Salt, Tapioca Syrup, Organic Spices, Sunflower Oil, Wheat Gluten, Tapioca Syrup Solids, Yeast. Green Beans: Green beans, Onion, Bacon, Reduced Sugar Dehydrated Cranberries. Sam's Club Pumpkin Cheesecake: Cream, Sugar, Milk, Pumpkin, Eggs, Wheat Flour, Water, Less than 2% of; Palm Oil, Brown Sugar, Honey, Graham Flour, Nonfat Milk, Lemon Juice Concentrate, Lemon Oil, Vanilla Bean Extractives, Whey, Baking Soda, Natural Flavors, Carrageenan, Dextrose, Cheese Culture, Salt, Carob Bean Gum, Guar Gum, Xanthan Gum, Modified Food Starch, Spice, Cornstarch, Niacin, Reduced Iron, Thiamine Mononitrate, Riboflavin, Folic Acid, Tara Gum, Citric Acid, Soy Lecithin. 
---
Come join Alloutdoor's Discord server and chat about Archery, Firearms, Fishing and other topics with others! Sneak peaks, early notifications, and perks await. We have a Tiktok account, too!
---
PS: Did this article make you hungry? Have things you'd love to have as a camping meal, but it isn't sold? Let me know in the comments what you want to see next!