This summer, I was contacted to review the Leki Black Series FX Carbon hiking/trekking poles. Initial thoughts were my current poles are just fine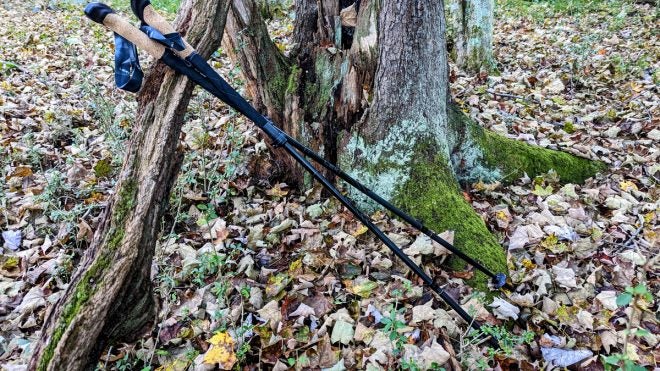 This summer, I was contacted to review the Leki Black Series FX Carbon hiking/trekking poles. Initial thoughts were my current poles are just fine, but aren't the best when having to travel places, as they remain about 20″ long. This doesn't do well in overhead storage on a plane, nor am I willing to check my hiking bag if I'm doing a short trip. Luckily, Leki's folding pole system is compact enough to bring just about anywhere.
---
Welcome to our recurring series of "The Path Less Traveled." In this series, we want to take you along for our exploits out in the wilderness while hiking, camping, exploring, and general adventuring. This will include our small daily victories, foibles, tips, tricks, and reviews of gear we authentically appreciate and frequently utilize. While a well-worn trail can often be the pathway to a leisurely day, the paths less traveled can often spur on some of the greatest memories, misadventures, and fun we could imagine. Join us in the Comments as we share our travels and hopefully we can all come together for a greater appreciation of the outdoors.
---
[Say it in Forrest Gump's voice] I heard you like poles. Hiking poles, fishing poles, pole saws….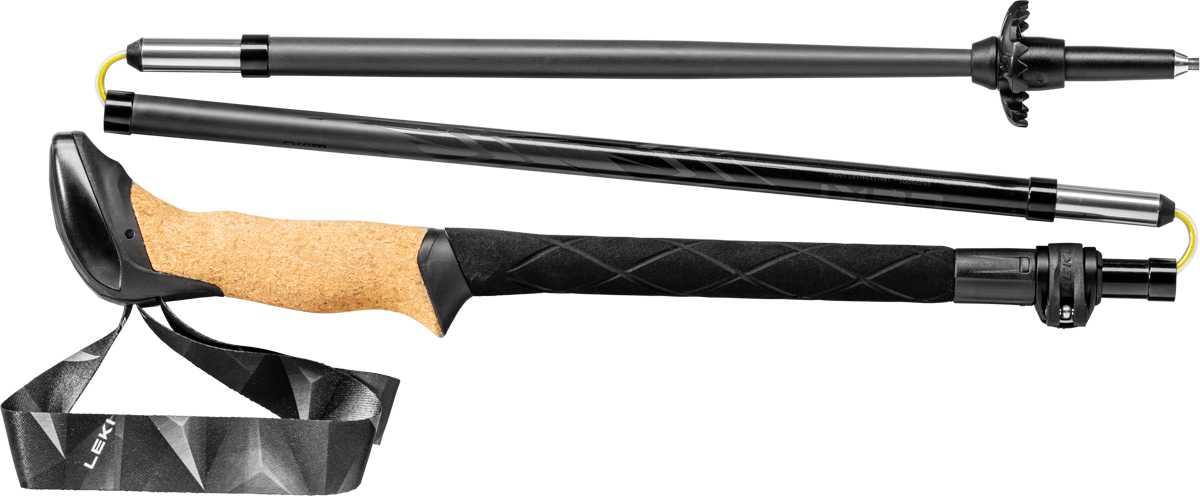 Company Info – LEKI
After World War II, Leki's founder, Karl Lenhart crafted parts for skiing poles to replace original parts he was dissatisfied with. In the southern portion or German, Lenhart's Dettingen facilities for making wooden letters for various purposes also crafted aluminum pole materials from his skills learned during the war. Leki had many firsts, including fiberglass shafts in 1960, 7075 Aluminum shafts in 1963, and the first adjustable trekking poles in 1974 to say the least.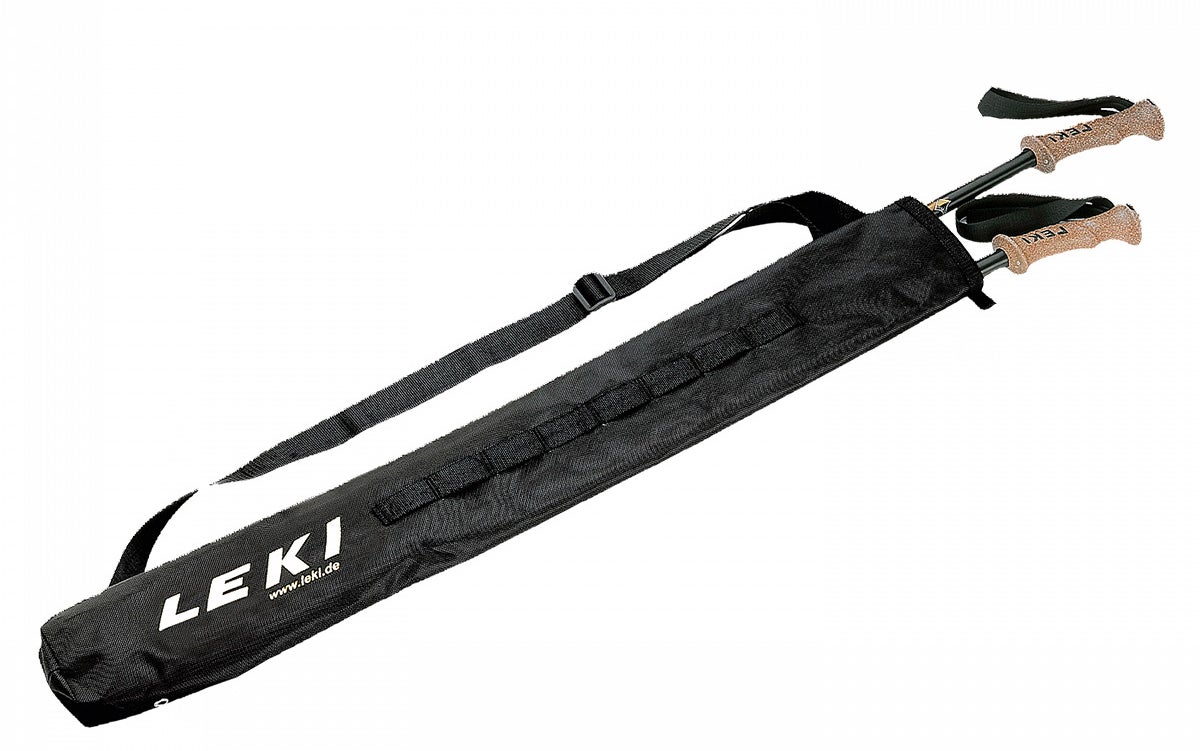 While Mr. Lenhart passed away in 2012, his company continues in innovating in the skiing and trekking worlds with various advancements and improvements. You can read more about Leki's groundbreaking designs here. Leki's company philosophy includes six core values for their work culture and products:
ABOUT LEKI
LEKI's DNA is made up of many faces, stories and values. For decades, LEKI has been built on the six core values that will continue to guide us into the future. Enthusiasm, innovation, quality, partnership, excellence and responsibility characterize LEKI and our employees, partners and athletes. For each value, we have chosen a representative who embodies that value and who thus also embodies what LEKI stands for.
You can Find Leki online at the following sites and social media platforms: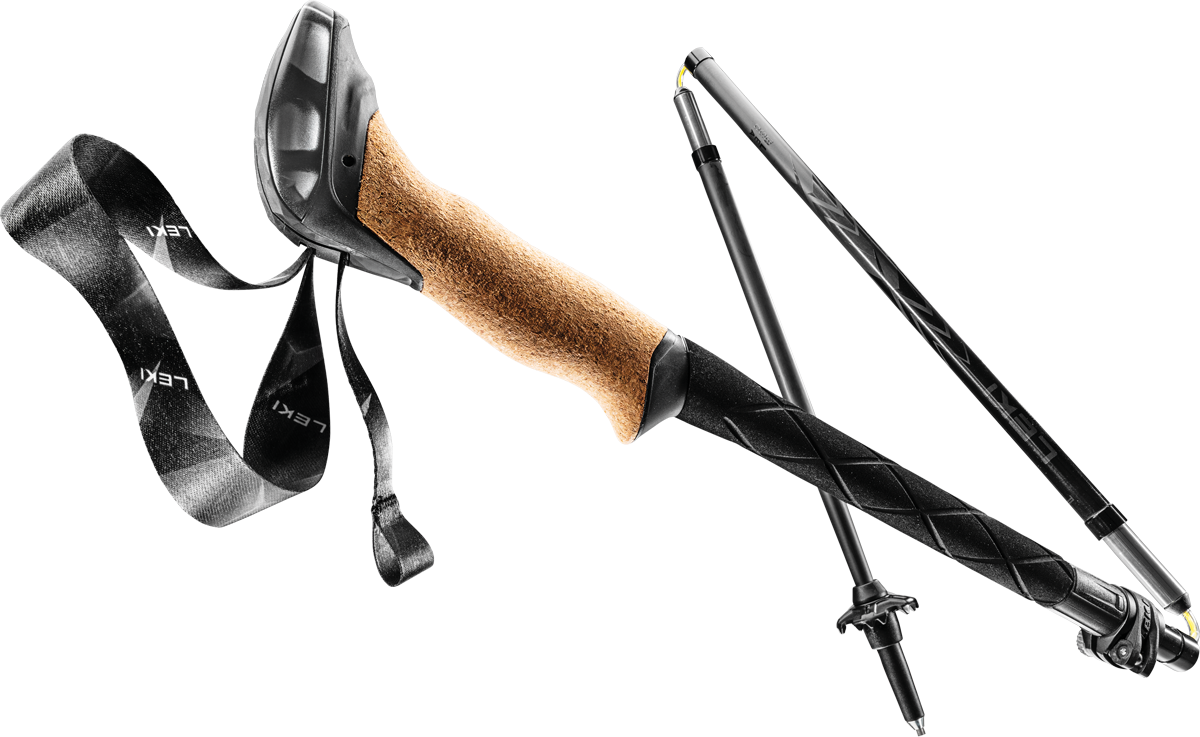 The Leki Black Series FX Carbon Trekking poles were released in 2019 as their flagship line, coming in at 228g per pole. Black Series FX Carbon Trekking poles fold down to 15.5 to 16 inches once fully collapsed. This is of great convenience for those who are traveling with trekking poles on an airplane, or anywhere else where the poles need to be stowed before use.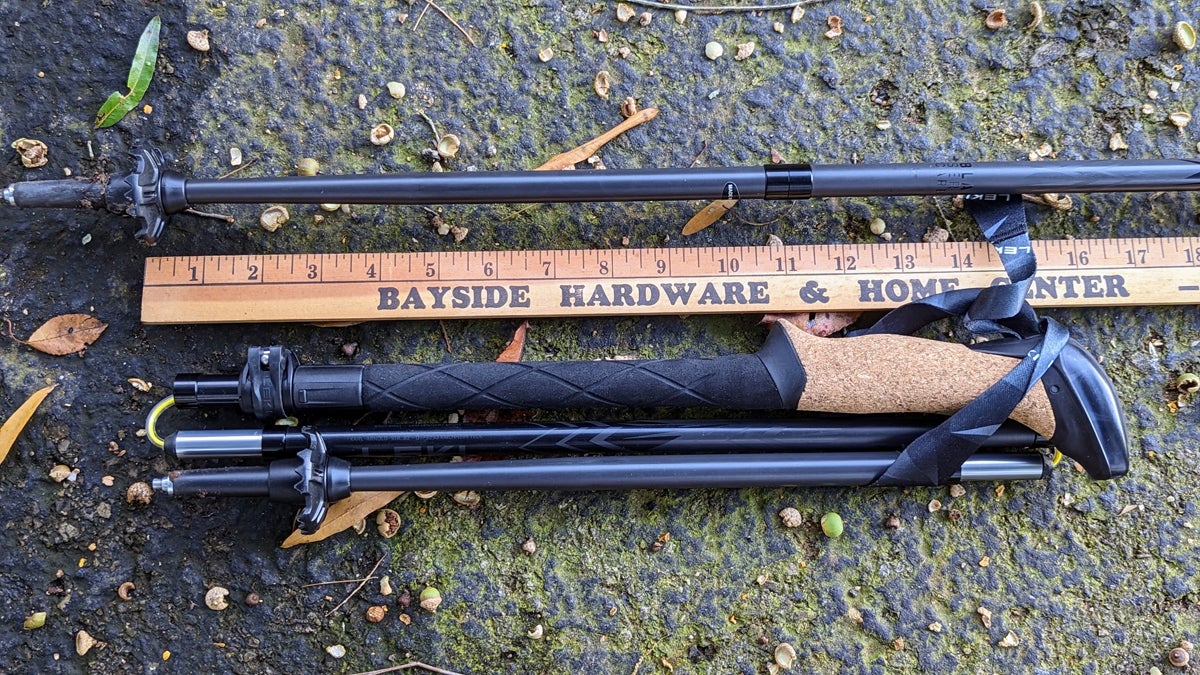 With a 16mm telescopic shaft, and 14mm connecting shafts, the diameter of these poles are able to handle loads and stresses in different directions due to the layup / weave geometry of the carbon.

These poles extend out to 130cm (full distance) has a full length of 51″; extended to 110cm (minimal distance) is roughly 42.5″. I am 66″ tall, and use the poles at 117cm, so I am close to what Leki's Pole Length Advisor recommends. Fully extended to 130cm, the advisor recommends a 185cm / 73″ max height.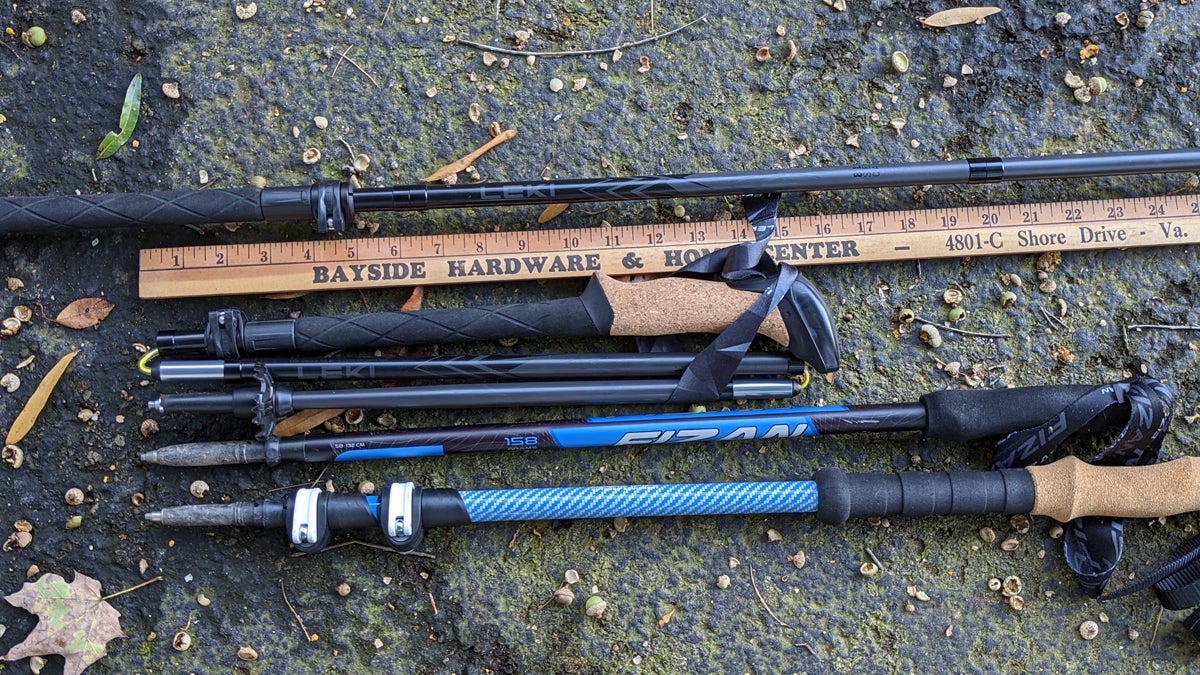 Cork grips on the poles are roughly 30-33mm in diameter, with consideration to ergonomic features. When going uphill, the 22mm thick foam handles give another 175mm of soft hand holding area.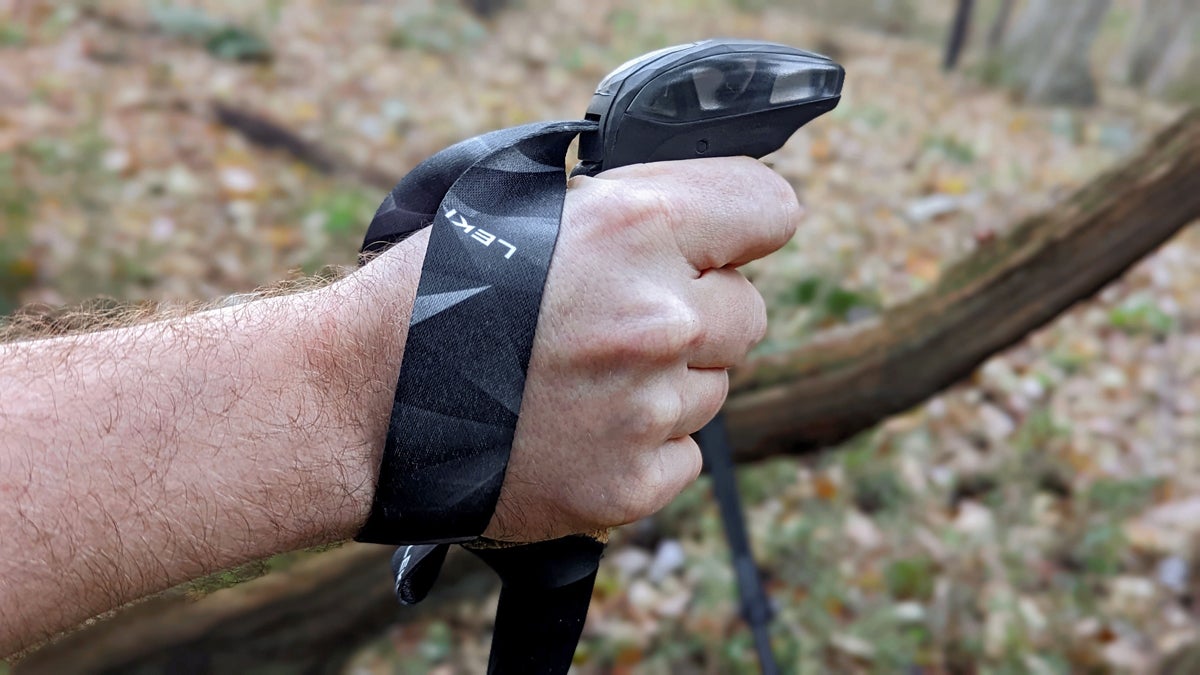 Locking strap is a lightweight, sweat wicking material that is going to mostly go without any interest because it seamlessly functions well at what it does.
Leki reports the Aergon Air topside grip area is lighter than their previous models while also providing rubber overmolding. It does provide comfort when going downhill as well as providing an additional hand holding position with additional grip. Aergon Air:
SL2+ Core Locking Device has a cam grip of 55kg, rated higher than most trekking pole locks. The camming action is smooth and lack difficulty in manipulating.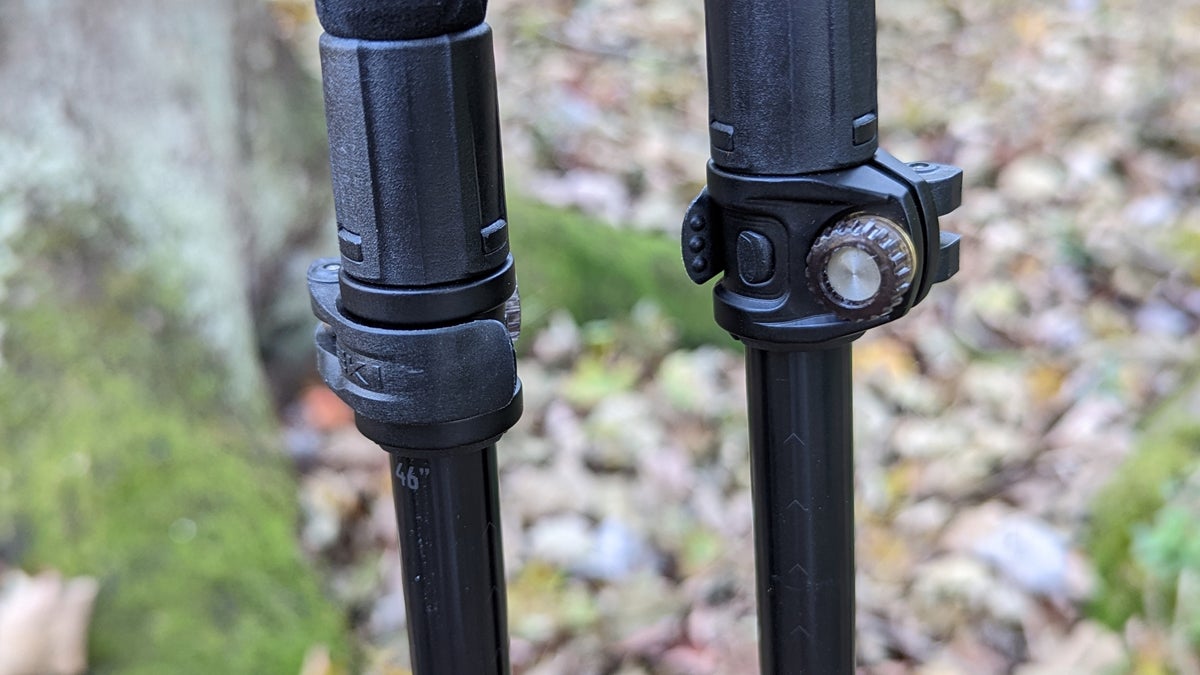 Lastly, the Universal Carbide Flextip on Leki's poles have the options for many basket or tip types to suit your hiking needs. You can see a list of available parts on Leki's Accessories page.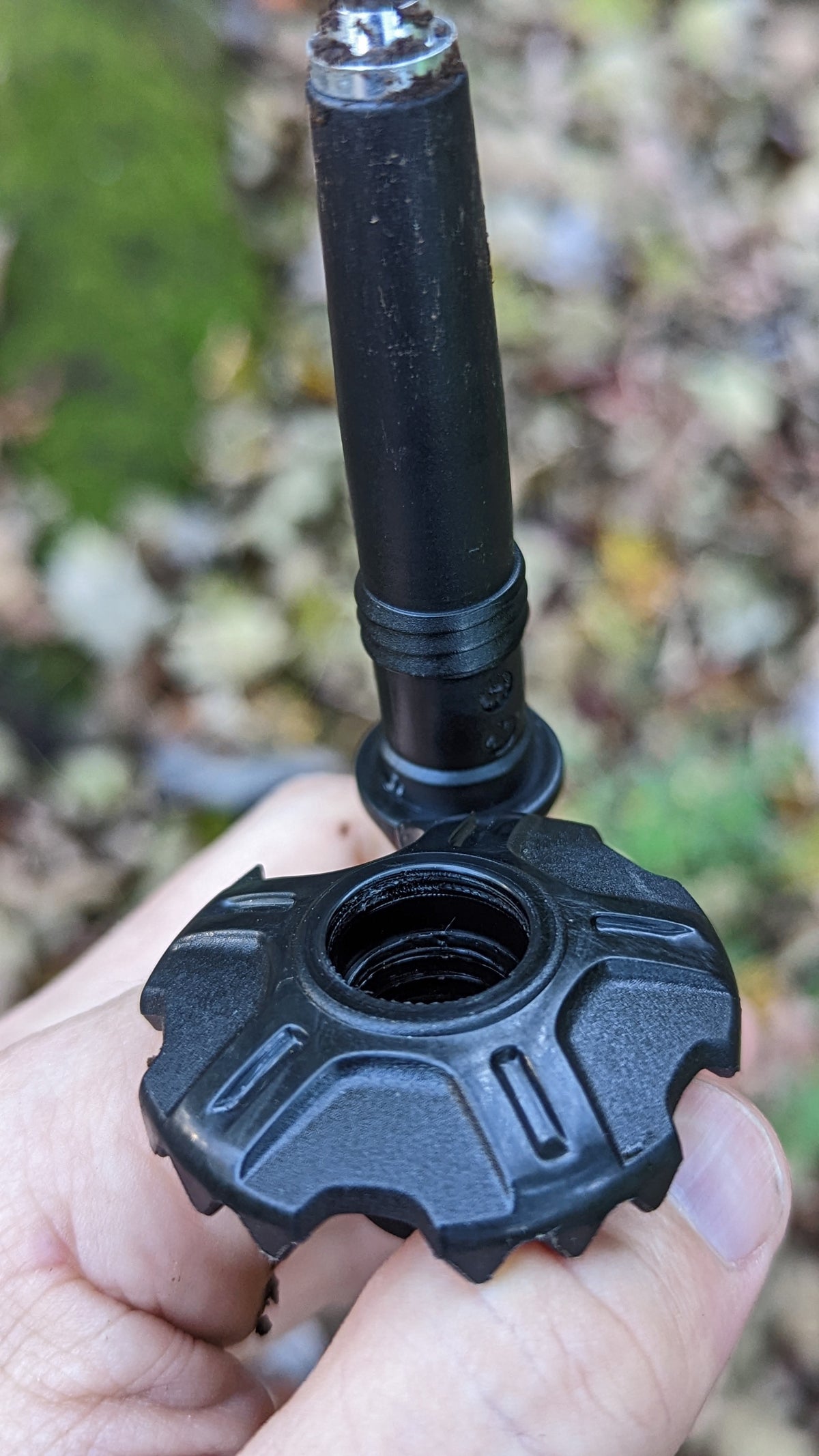 Observations – Weight, Cost, Durability – How Many Can I choose?
Leki's poles have strength, reliability, and one of the most well known names in the business behind these flagship poles. With all my might, I could not cause the poles to deflect more than 30mm by tweaking the handle with the carbide tip planted into the soil. I'm not sure I could break these carbon poles unless there was a severe accident or flat out stupidity.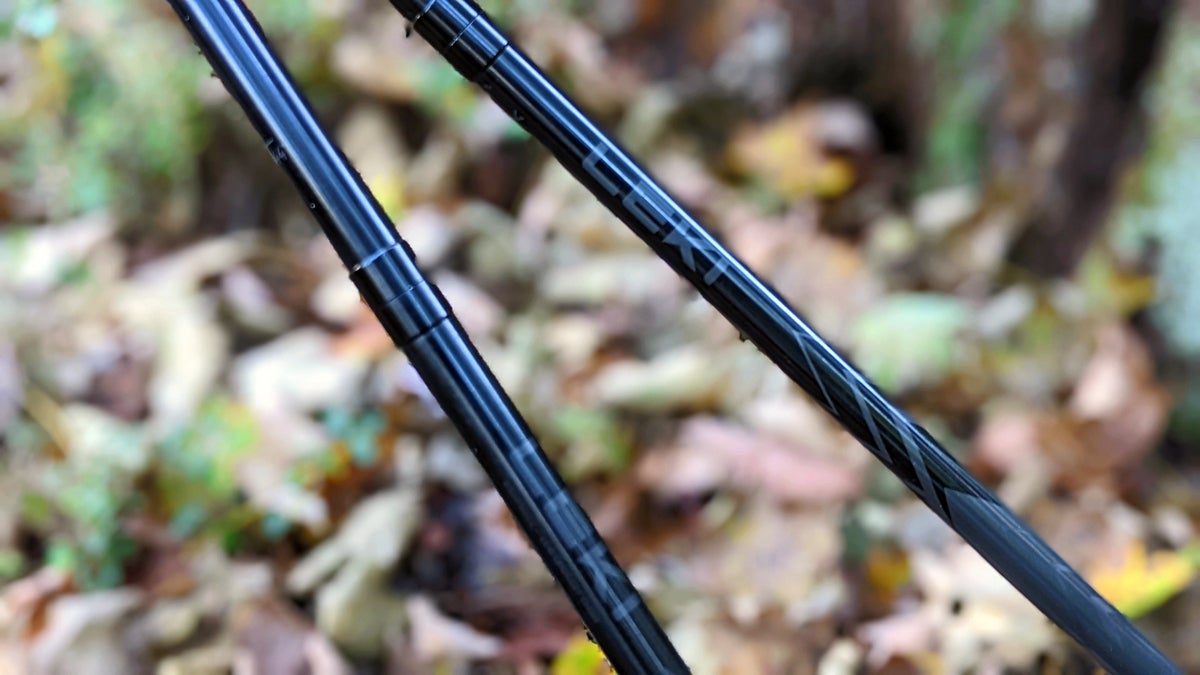 Luckily, in the rare chance you need to have replacements or repairs from accidents, Leki's carbon poles carry a one year warranty.
Warranty Coverage on TREKKING Poles
Question: What does LEKI USA's Trekking Pole warranty cover?
Answer: There is a one year warranty on our Carbon Shaft Trekking poles and a lifetime warranty on Aluminum Shaft Trekking poles. The warranty covers shaft breakage only.

Question: What is not covered under the LEKI USA Warranty for Trekking Poles?
Answer:

It does not cover bent aluminum poles, as they can be straightened in a vise without compromising the integrity of the pole.
It does not cover normal wear and tear.
It does not cover lost straps, lost sections, or any other lost parts.
It does not cover chewed straps or grips by animals or other living beings.
It does not cover broken straps, broken or worn tips, worn grips, expanders, sleeves or missing baskets.

LEKI USA Customer Service reserves the right to limit the amount of Return Authorizations assigned per customer over any given period of time. A customers claim(s) will be scrutinized based on rate of recurrence.
Due to the construction methodology of these poles having the corded folding function inside the carbon rods, they swing differently than a pole where center of balance is higher. The distributed weight does balance out the 228g, and made me feel I could swing the poles a little faster than a lighter pair, but with minimally more effort.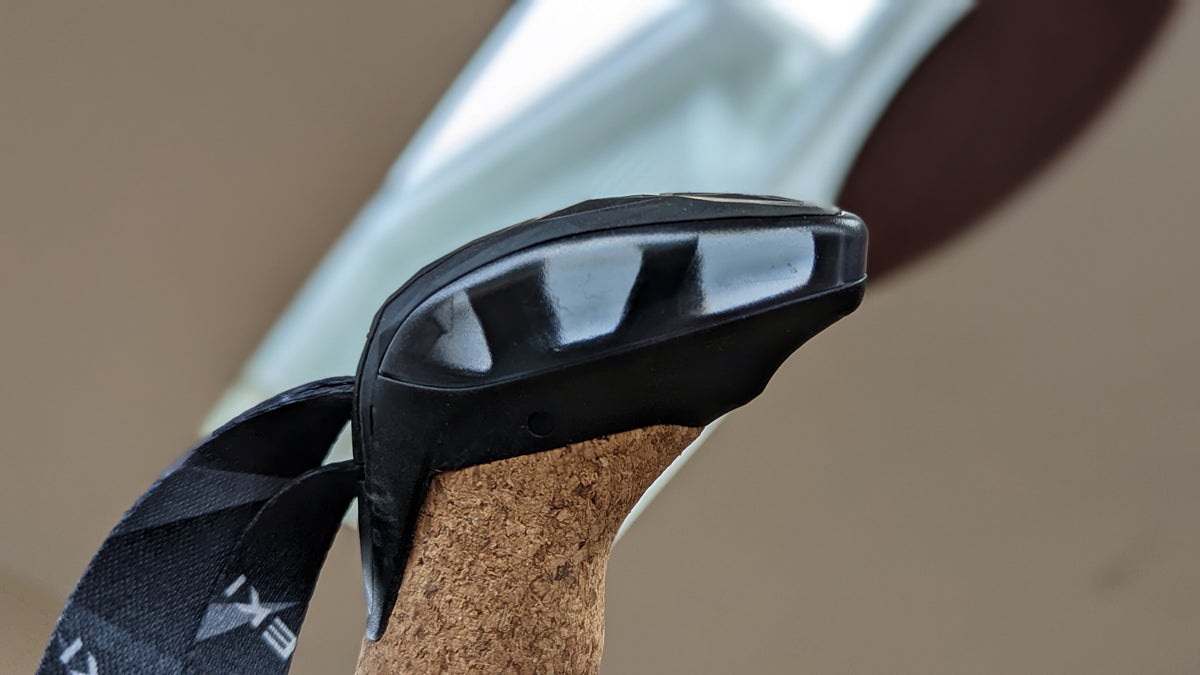 I spent 11 hiking days and 140 miles with these poles, and had no complications, nor can I imagine how they can or may cause problems in the future. One of the coolest features of the Black Series FX Carbon Trekking Pole was the compact basket with a clip-in area to keep the poles from flopping around once folded!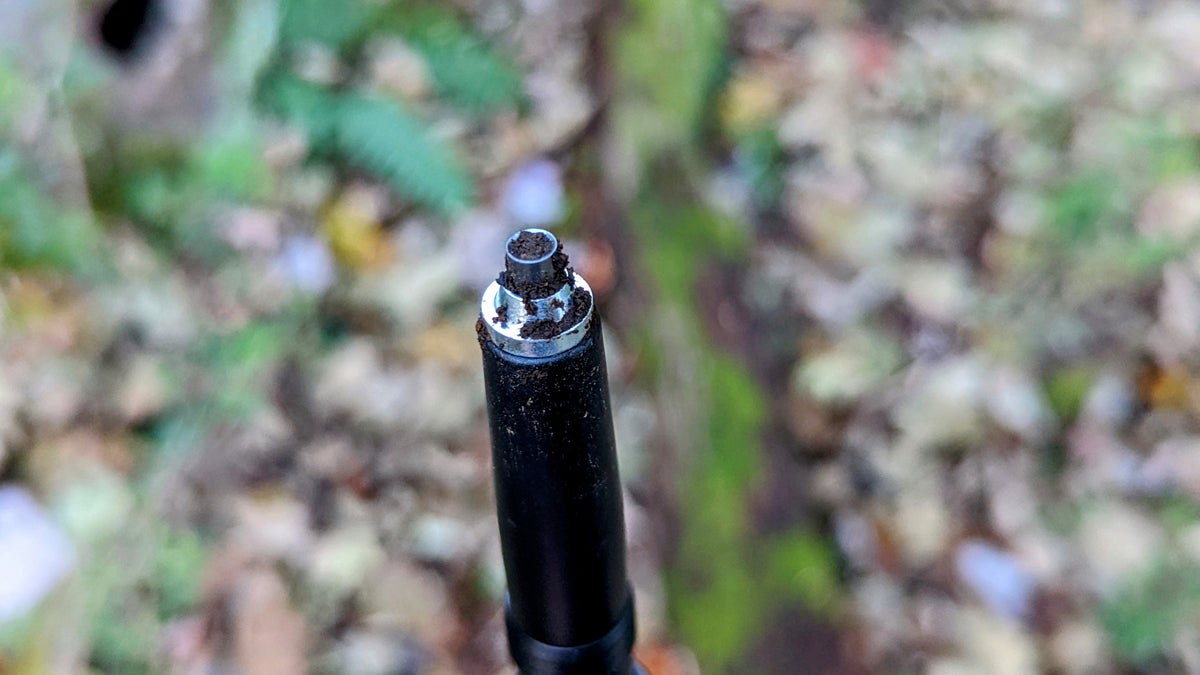 My only complication was initially figuring out the locking mechanism where the poles must me fully extended past the green " stopping point" printed on the pole shaft. Typically when I see something that tells me to stop, I stop beforehand. This is solely because I didn't RTFM, and figured it out quickly once seeing a friend manipulate his folding pole. (No, stop thinking like that.)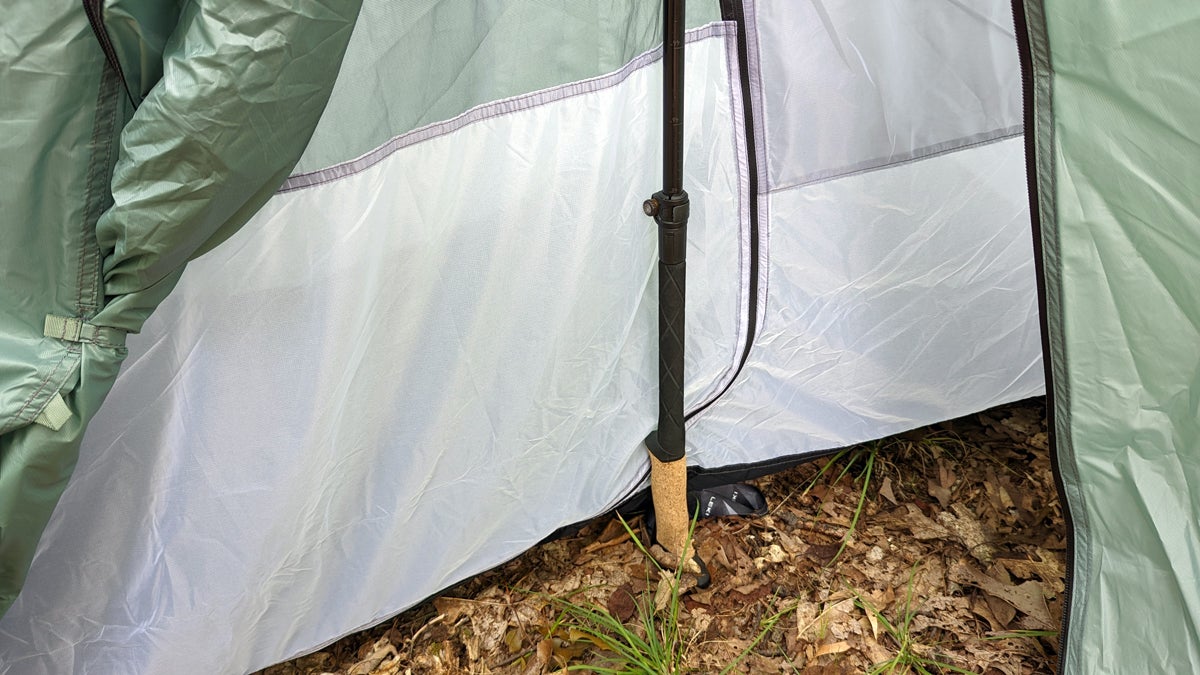 With a MSRP of $259.95 for two poles, there are competitors that are biting at Leki's heels. A price tag of nearly $130 a pole is nothing to scoff about, but these are likely the last poles you'll ever need to buy. Only you can answer whether this is a "Buy once. Cry once." valuation.
With zero complications in my brief experience with these poles and finding no major weak points in their design, I can make a confident statement that these poles will be good for anyone who needs a trekking pole that can be placed in a compact area with little concern for durability or reliability.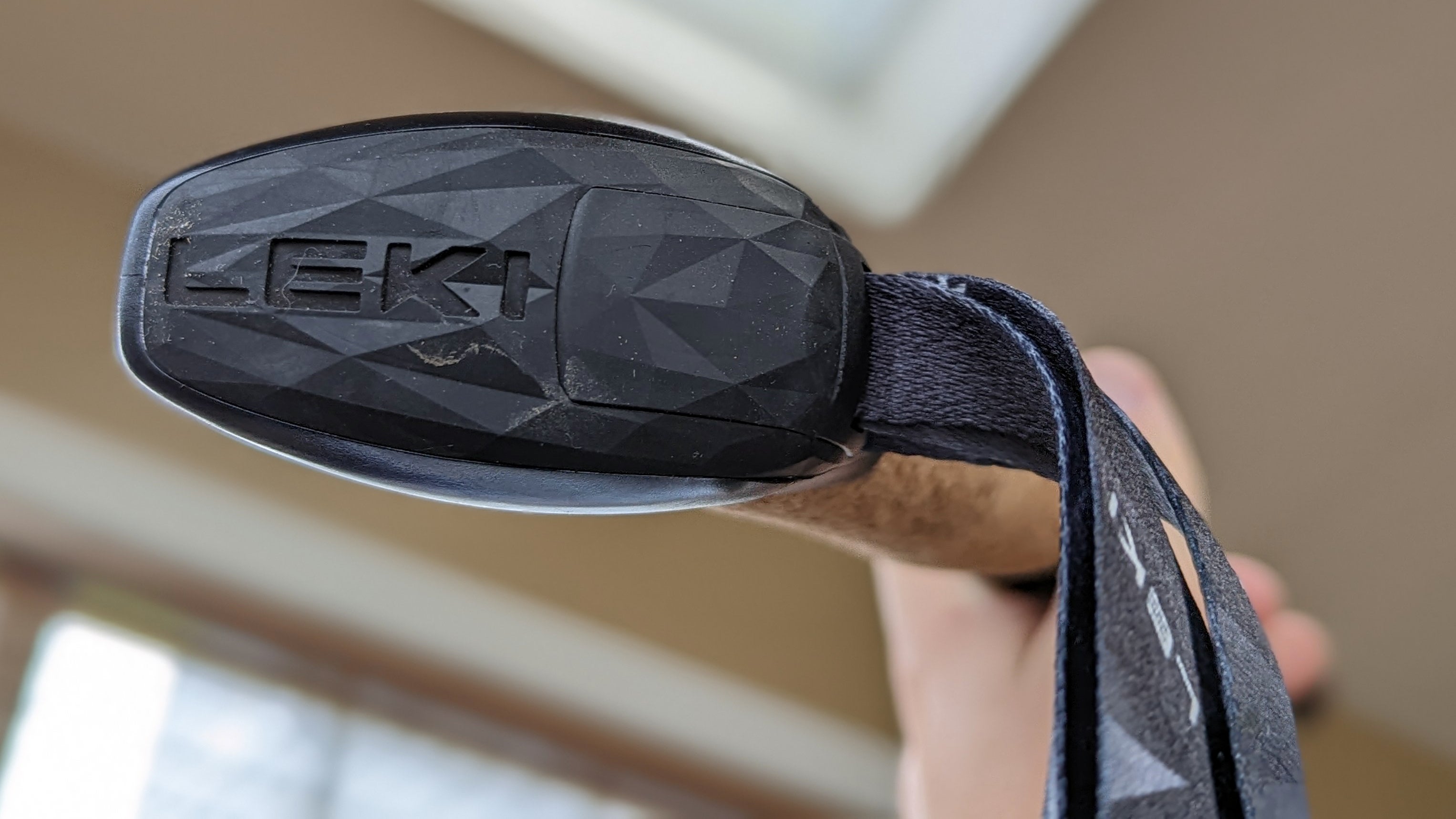 3.25 of 4 stars.
Comparison
There are two big names in the trekking pole industry, Leki and Black Diamond. I perused REI, Moosejaw and Amazon, finding the Alpine Carbon Cork WR trekking poles being the closest comparison. These poles similar to Leki's, MSRP for $219.99, and weigh 250g ea.
I once purchased some Wal-Mart poles for a friend who was trying to determine whether they were getting into hiking. The Ozark Trail Lightweight Carbon Fiber Adjustable Quick Lock Trekking Poles with Cork Grip – 2 Pack are $39.99, and allegedly weigh 221g (actual = 260g and 254g). If you're on a budget and don't want to consider a pair of Leki's, these are an option. At worst, you can return them, no?
Lastly, a pair of poles that have nearly 2000mi on them, but are telescopic aluminum poles with little support for repair parts in the US are the Fizan Compact 3's, which I have reviewed here in the past.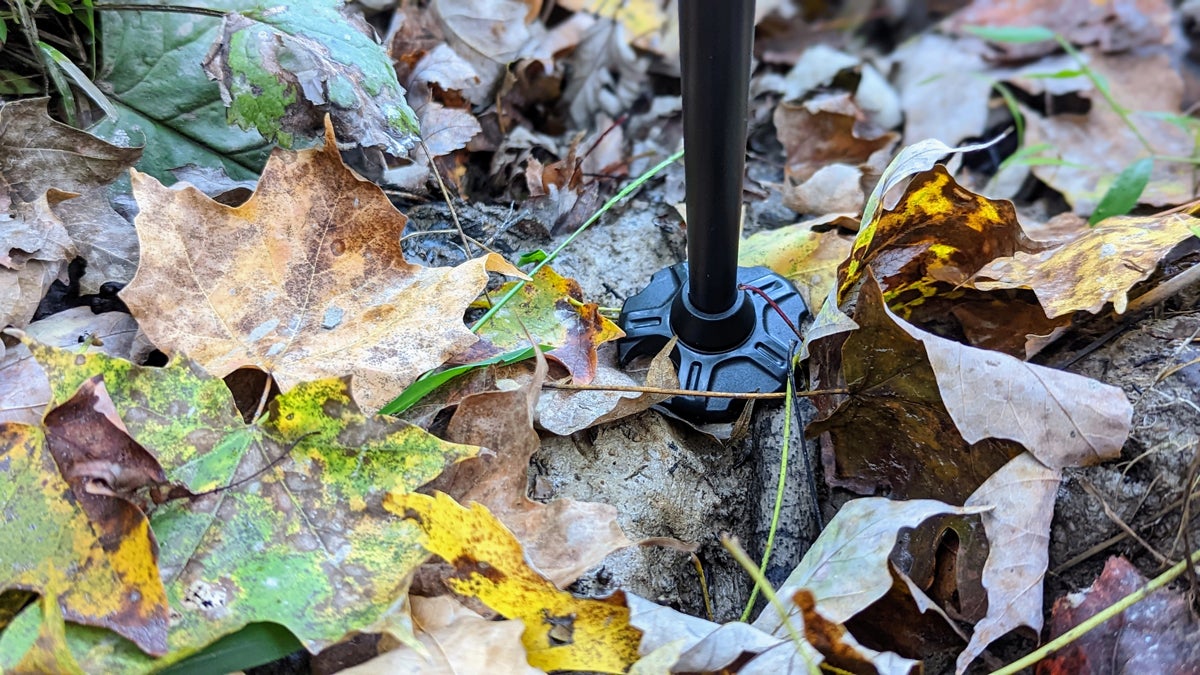 As Per Leki's site:
Part#: 65229001
MSRP: $259.99
Series Unisex
Construction Folding|CLD|Adjustable
Grip Aergon Air Cork
Strap Lock Security Strap Skin 4.0
Segments 4-pieces
Shaft Diameter 16|14|14|14 mm
Upper section Carbon (PRC 1000)
Lower section Carbon (PRC 1000)
Locking System Speed Lock 2 plus
Basket Trekking 2.0
Tip Carbide Flex Tip
Length/Size 110 – 130 cm
Weight/Pole 228 g/per pole
Pack Size 40 cm
---
The opinions expressed above are entirely from the author and weren't subject to review by LEKI USA, or any external entity.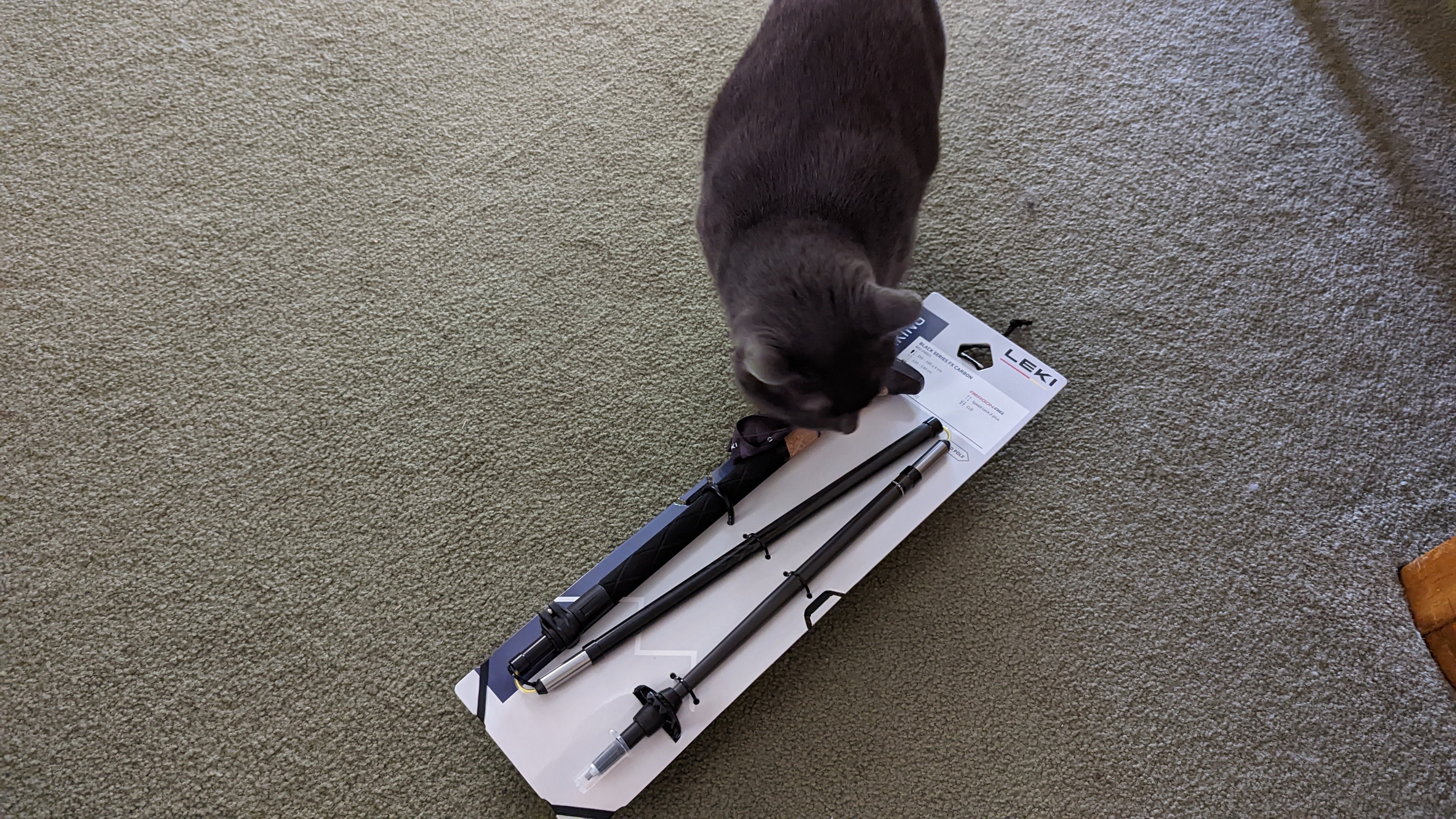 ---
Come join AllOutdoor's Discord server and chat about Archery, Firearms, Fishing, etc. with others! Sneak peaks, early notifications, and perks await.
We have a Tiktok account, too!