Luke Cuenco   04.25.22 I'll be the first person to admit that I don't feel quite right unless I get a good shower at least once a day. Although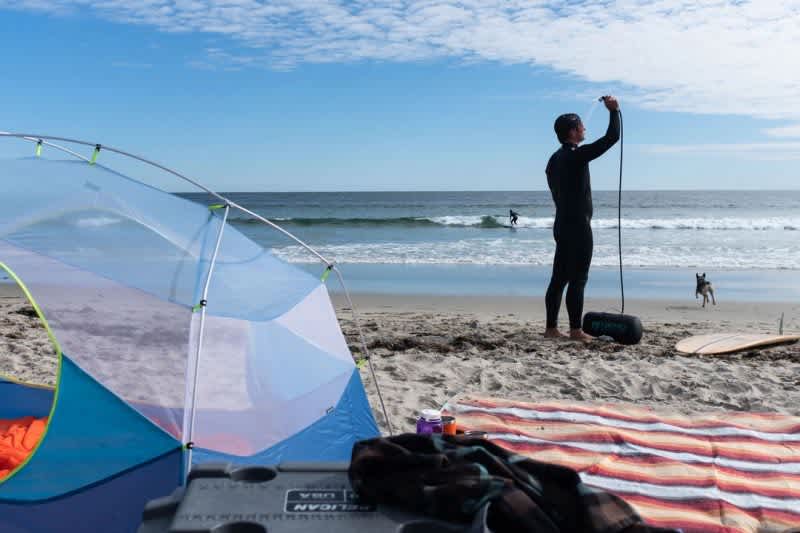 +
–
Table of Contents

How long do Solar Showers typically take to heat up?
This largely depends on the weather as you could expect but in general, on an 80-degree day most solar showers can heat up to "warm" water in about an hour and relatively hot water in about 3 hours. This is why many solar showers feature thermometers so that you can gauge how fast your solar shower tank is heating up. Some solar showers are capable of handling pretty hot water and oftentimes campers will opt to heat up some water over the campfire and then fill the bags up – just check to make sure your solar shower is rated for hotter water if you choose to do this!
Larger solar showers can take all day to heat up, especially if the weather isn't too warm or you accidentally put the tank in the shade. On hotter days, solar showers heat up pretty quick but take caution to make sure you don't overheat the bag which could damage the polymer components.
How long does a Solar Shower Last?
Your average Solar Shower will have a roughly 5-gallon tank that you then hang or pressurize to give you good water flow. Depending on the nozzle type your average 5-gallon tank will last you about 5 minutes or so if you're conservative with the water and aren't just sitting in the water without actually cleansing yourself.
Are there other options that would give me a more comfortable or longer shower?
There certainly are! If you know you're going to set up camp in a remote location for a while or the weather is going to be consistently cold, solar showers may not be the best option. The Mr. Heater BaseCamp B.O.S.S is a propane battery-operated pressurized shower that can draw water from almost anywhere and heat it up to a comfortable temperature using its onboard 12,000-BTU burner.
This gives you more consistent access to warm water and can run up to 40-minutes using a standard 1-lb propane cylinder and 6 D-Cell batteries. This is a great option for luxury camping or setting up at a deer camp that doesn't have a shower. It's also quite affordable too all things considered!
We are committed to finding, researching, and recommending the best products. We earn commissions from purchases you make using the retail links in our product reviews. Learn more about how this works.