Luke Cuenco   10.12.21 Bone saws might sound terrifying with their name for the unfamiliar but bone saws are actually fairly common pieces of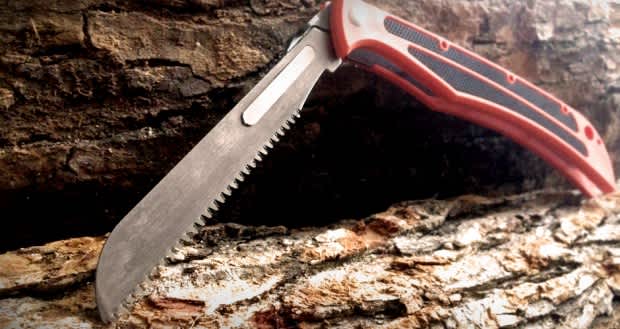 +
–
Table of Contents

1. LEM Products 640 16″ Meat Saw – Editor's Pick
I said in the introduction that modern bone saws are generally foldable knives but the LEM Products 640 is a more traditional design and even features a blade tightening cam. The large size and design of the 640 mean that you can get a better grip and make more efficient cuts. The blade tightening cam allows you to tension the blade properly for what you're cutting through and overall the LEM Products 640 is an extremely affordable albeit bulky option for a bone saw.
Pros/Affordable with classic ergonomics
Cons/Not made from stainless steel and can rust
Bottom Line/An inexpensive option if you don't mind the extra space it takes up and dealing with rust
2. Bahco 396-LAP Laplander Folding Saw
The Laplander folding saw is a modernized compact toothed saw that can hog through just about anything. The Laplander is a general-purpose saw made from a high-quality coated blade with 7-teeth per inch and terminates in a two-component plastic handle with a safety lock. The Blade folds into a slim and long configuration when not being used which means you can store it easily in your pack. The blade handle and blade also feature a slightly canted angle which makes cutting through thick bone or branches a breeze. Best of all, spare blades are affordable and can be swapped out in the field with just a Phillips head screwdriver.
Pros/Foldable and lightweight design and replaceable blades
Cons/Blade Coating won't last forever and will eventually allow the blade to rust if exposed to moisture
Bottom Line/A great mid-range option for a compact folding bone saw
3. Gerber Gear EXO-MOD Pack Hunting Saw
Coming from my home state of Oregon, Gerber has a long-lasting reputation of being one of the best blade makers in the states. The EXO-MOD pack hunting saw is purpose-built for game processing in the field and features a perpendicular skeletonized grip, a high-quality full tang blade and crosscut saw teeth for making quick work of bone and other tough materials.
Pros/High quality durable blade purpose built for cutting through bone
Cons/Skeletonized grip is not the most comfortable
Bottom Line/A lightweight option that can be carried on your belt with the included plastic sheath
4. Havalon Baracuta Bone Saw
Featuring a thicker blade than most bone saws, the Baracuta bone saw excels at cutting through bone and wood without getting hung up. The Baracuta features a micro-honed Japanese stainless steel blade that is also extremely corrosion resistant making it suitable for taking on your most extreme backcountry hunting trips. The Baracuta also comes with three replaceable blades so you'll never have to worry about not being able to process your trophy as long as you have spare blades. Finally, the military-grade polymer handle is extremely durable and features a high visibility green handle for easy locating.
Pros/High Quality Stainless steel serrated blades – maximum corrosion resistance
Cons/Most expensive option on the list
Bottom Line/A great lightweight and
5. EverSaw Folding Hand Saw
Last but not least on our list is the EverSaw folding Hand Saw. This is one beefy piece of kit and it is virtually bomb-proof. The blade features super sharp triple-cut razor teeth made for pull-cut sawing and the teeth have been hardened to prevent early breakage. The folding saw weighs just 10-ounces, making it both light and compact, and also features an easy-to-use locking mechanism and is affordable too at just $15.
Pros/Extremely durable and affordable
Cons/Some reviews say the locking mechanism is flimsy and breaks easily
Bottom Line/An affordable, durable and compact option.
What to look for in a bone saw
Bone saws may be that one piece of gear you think you can go without, but I'm here to say that you need one. The proper bone saw makes things much easier and it can serve a dual purpose in survival situations, too.
You want to pick one, first and foremost, that fits your hand and is balanced. One of, if not the most important elements in any cutting tool is whether or not it fits your hands well. If it doesn't you're not going to be able to use it like you want.
Packability is important if you plan to take it into the field with you, and this is where the folding models tend to shine. Make sure you can haul it with you and it doesn't take up took much extra space.
A good bone saw is sharp and isn't overly aggressive, so you are make clean, mess-free cuts. You want one that will cut frozen meat, as sometimes you just get stuck cutting through frozen tissue and bone, and you want it to make a cleaner cut to avoid  tainting your meat as much as possible.
Meat saws can also be used for other cutting needs in situations, but you might want to be sure to have a saw that can swap out blades.
What is the best blade material for a bone saw?
While bone saws can be made from cheaper steel, the best material out there for this particular job is stainless steel. Although you lose a bit on the weight side of things and they tend to be more pricey than other steels, Stainless Steel bone saws will ensure that you get a lot of life out of your blade without it rusting.
Can bone saws cut through frozen meat?
Yes, bone saws can cut through frozen meat just fine. If you've packed away some meat with dry ice and it has somehow frozen, no need to worry. Bone saws feature tough blades that can cut through other tough materials like PVC, wood, and of course, bone – it's perfectly fine to use your bone saw to cut through frozen meats for easier preparation.
Why do I need to buy a bone saw? Can't I just use a hack saw?
Hacksaws don't feature the same cutting characteristics of a bone saw. Hack saws generally feature finer toothed blades and require a lot of back and forth to get through materials. If you've got the time and patience it is theoretically possible to use a hacksaw to cut through meat but in the end, you'll just wear yourself out. Try to find a medium-toothed blade that features somewhere between 7 to 10 teeth per inch – these blades will make quick work of bone and wood.
We are committed to finding, researching, and recommending the best products. We earn commissions from purchases you make using the retail links in our product reviews. Learn more about how this works.