When I first got into what is now overlanding, we had paper maps and/or handwritten directions. Getting lost was a thing, and if you even had a GP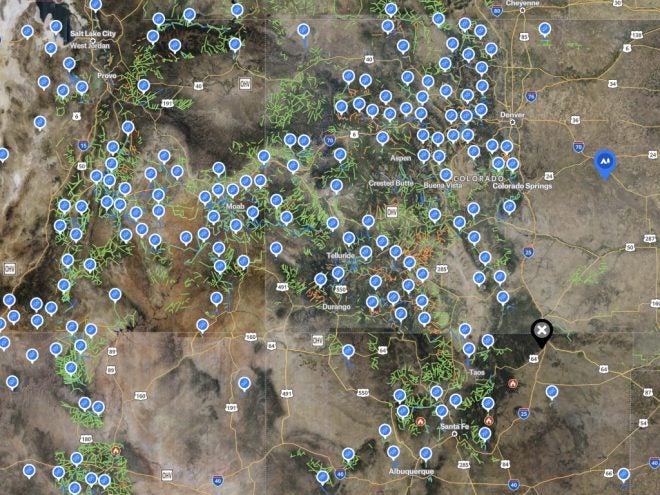 When I first got into what is now overlanding, we had paper maps and/or handwritten directions. Getting lost was a thing, and if you even had a GPS device, they were a lot more primitive (you could set waypoints, but giant touch screens with detailed maps were not a thing). You had to have a good grasp of trip planning basics because you didn't have the luxury of technology to bail you out. No cell phones, no 5G data to pull down maps.
Now we have a plethora of tools that make trails way more accessible. While some may disagree that making the backcountry easier to navigate is a good thing, I think having more people enjoying adventuring and (hopefully) learning good stewardship benefits us all.
Good day everyone and welcome to a new installment of AllOutdoor's Off-Road and Overlanding series brought to you by onX Offroad–mapping software for all your adventures.
Why I prefer Driving over Flying…
I frequently travel solo – mainly to courses all over the US. The majority of those courses are out West where we have the benefit of BLM land and lots of State and Federal forests. This means there are lots of opportunities to go exploring and wake up in interesting places. You can't do that if you are traveling in a big metal tube hurtling through the air.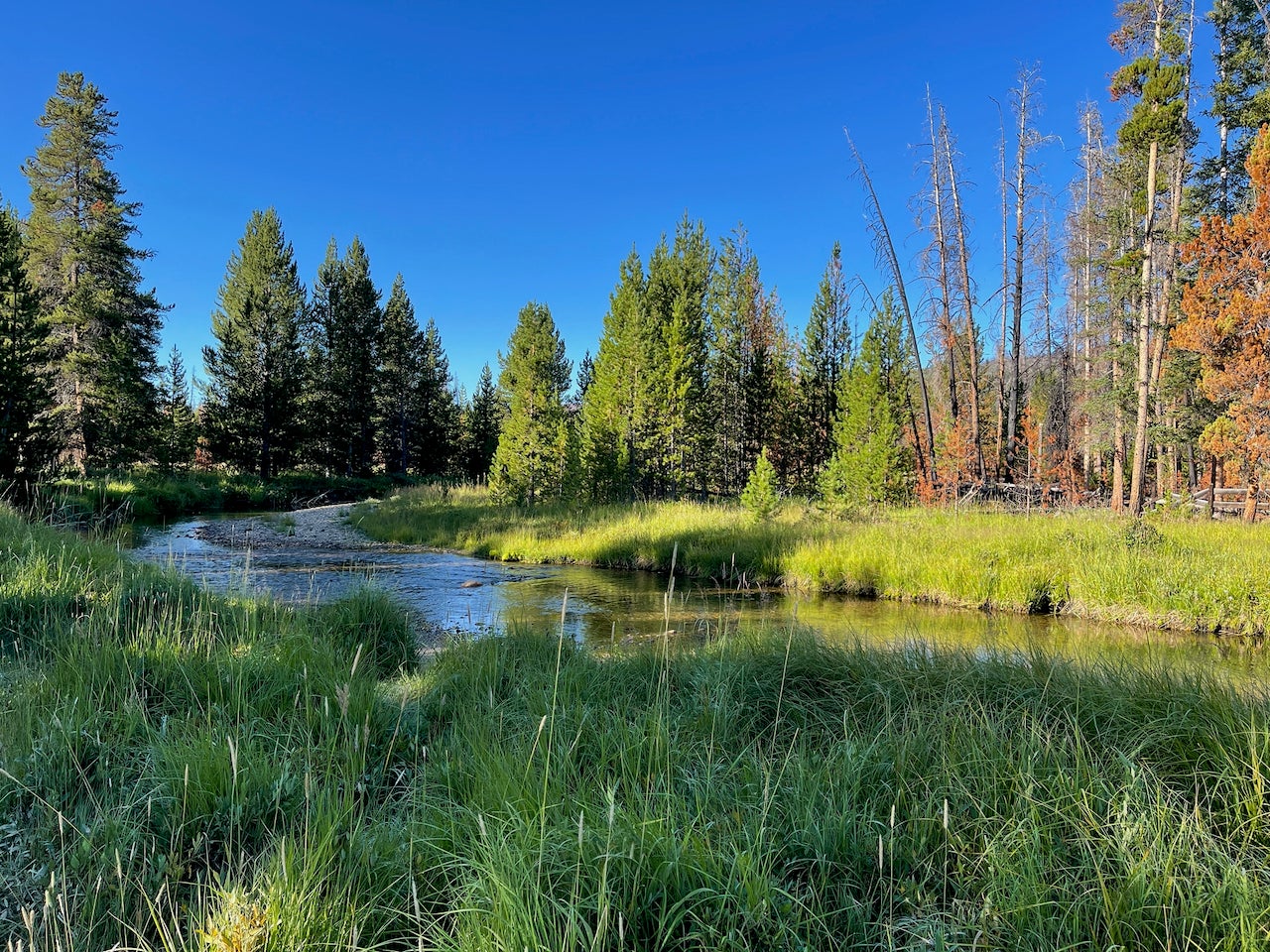 You can even find some amazing diversions that allow you to bypass paved roads along the way. If I have the option, I try and build in some extra time on the way to courses so I can explore. It can be a budget-friendly way to have some extra fun on a trip.
What Tool to Use?
The navigation and planning tool I started using in my Tacoma was Gaia GPS. It is a fine tool, but I personally always found it to be more complex than I needed. I could never tune the layers to be efficient. It also behaved a lot more like a digital paper map that you could tag on.
Earlier last year I was introduced to onX while hunting (the "Hunt" variant of the service), and it was great. It really simplified communications and planning basics. Then, I started using onX Offroad (long before this sponsored series). onX Offroad has really changed the frequency I go exploring – even in its earlier versions – currently, it is pretty powerful without being overwhelming.
Import Maps?
If you are coming from another system, you can import maps in the popular KML or GPX files. Thank goodness because I had a ton of things saved for other apps. Once you import your existing files, you get all of the onX data cards in an easy-to-consume format. It will give you elevation gain/loss and total length.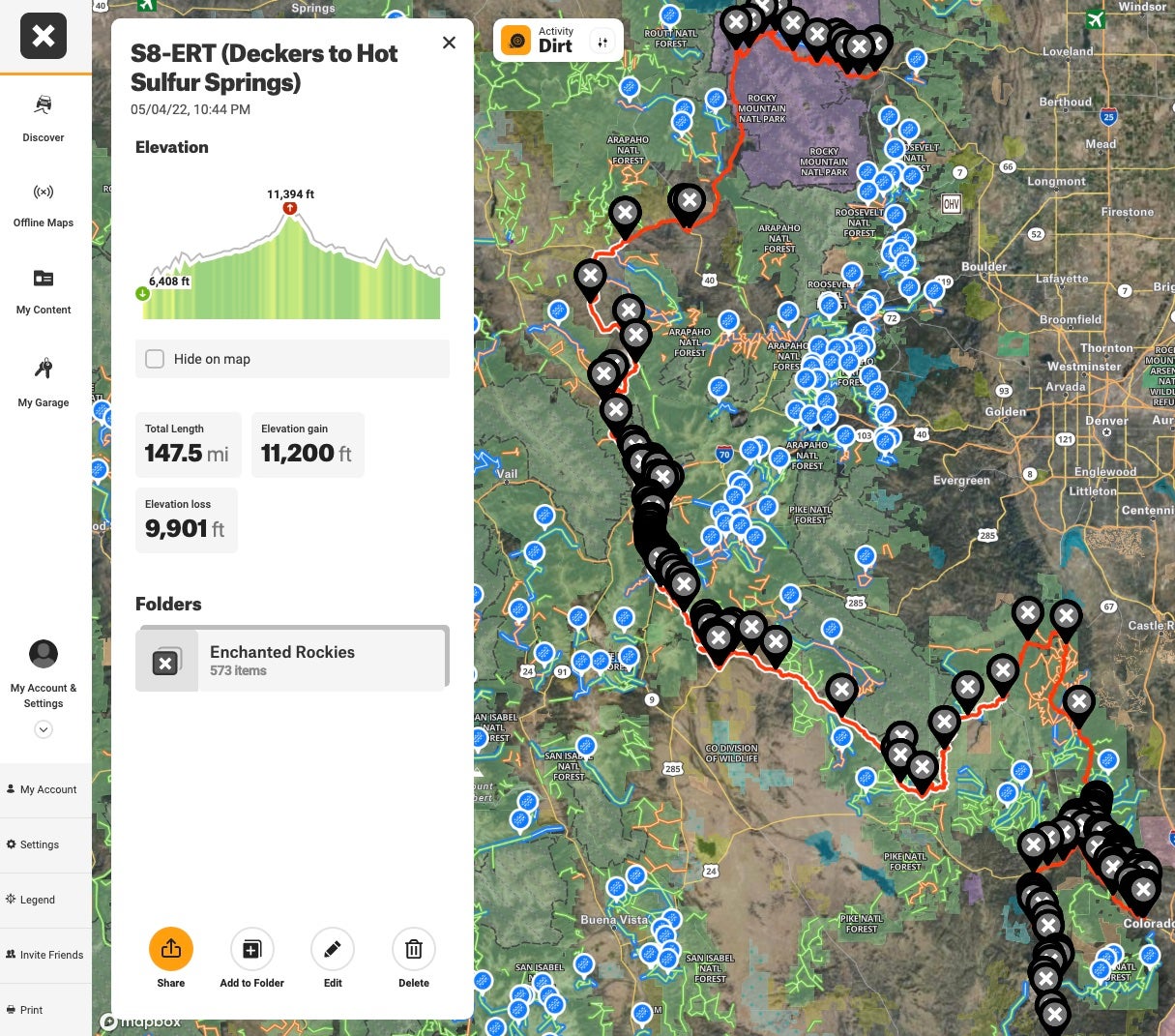 While I love exploring and finding new areas, there are several trails/routes that I've been on that are worthy of a repeat. Being able to have a favorite trail portable between devices is a must-have.
Some off-roaders like to protect areas they have found to camp, and won't share details about those campsites. I believe in a different approach and so do most people in the groups I run with (when I roll with other people). The backcountry is not "exclusive content" for only a few. It is a resource to be respected and enjoyed by everyone that is able.
onX Trip Planning Basics
The trip planning basics don't change when using the onX app – what it affords you is the ability to easily research trails in a local area you are going to (or crossing through).
Once I know where my final destination is, I plot that into Google Maps and let that give me an optimal route. Aside from a couple of random quirks, it has not led me to any place I can't get out of. I get a rough idea of how long the overall trip will take me in days, and then try and factor in one or more exploratory trips. If I'm out west I plan multi-day stopping points in such a way that I can sleep on the trail.
I like to start planning my side trips using the onX website, rather than the mobile app. It is just easier to work with things in a larger format, and being able to use the mouse and keyboard is helpful. Anything you do on the website app reflects on the app on your mobile devices. I pull up the Google Map side by side with the onX map and start looking for trails near my route.
Upcoming Trip Example…
I have a class coming up in Couer d'Alene, Idaho that will start on a Tuesday, and I have to pick up an instructor in Salt Lake City, Utah. This means I get to travel through some of my favorite states and routes. I will go through northern New Mexico, clip the southwest corner of Colorado, push through Moab up to SLC, and follow the Snake River in Idaho for a bit before ultimately heading north. I can do this drive in two hard days (overnight in SLC). Or, I can take a third day and go play.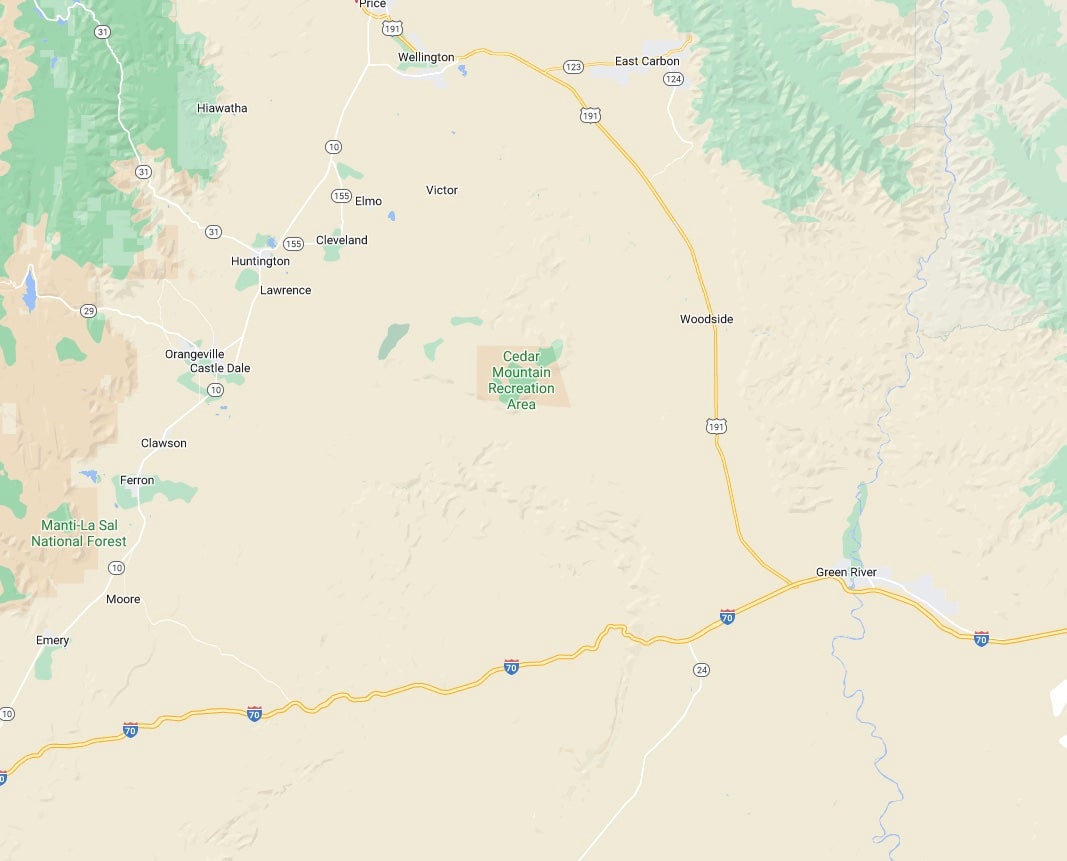 Previously, when I used Gaia GPS I had to do a lot more research to find trails. onX Offroad makes it easy.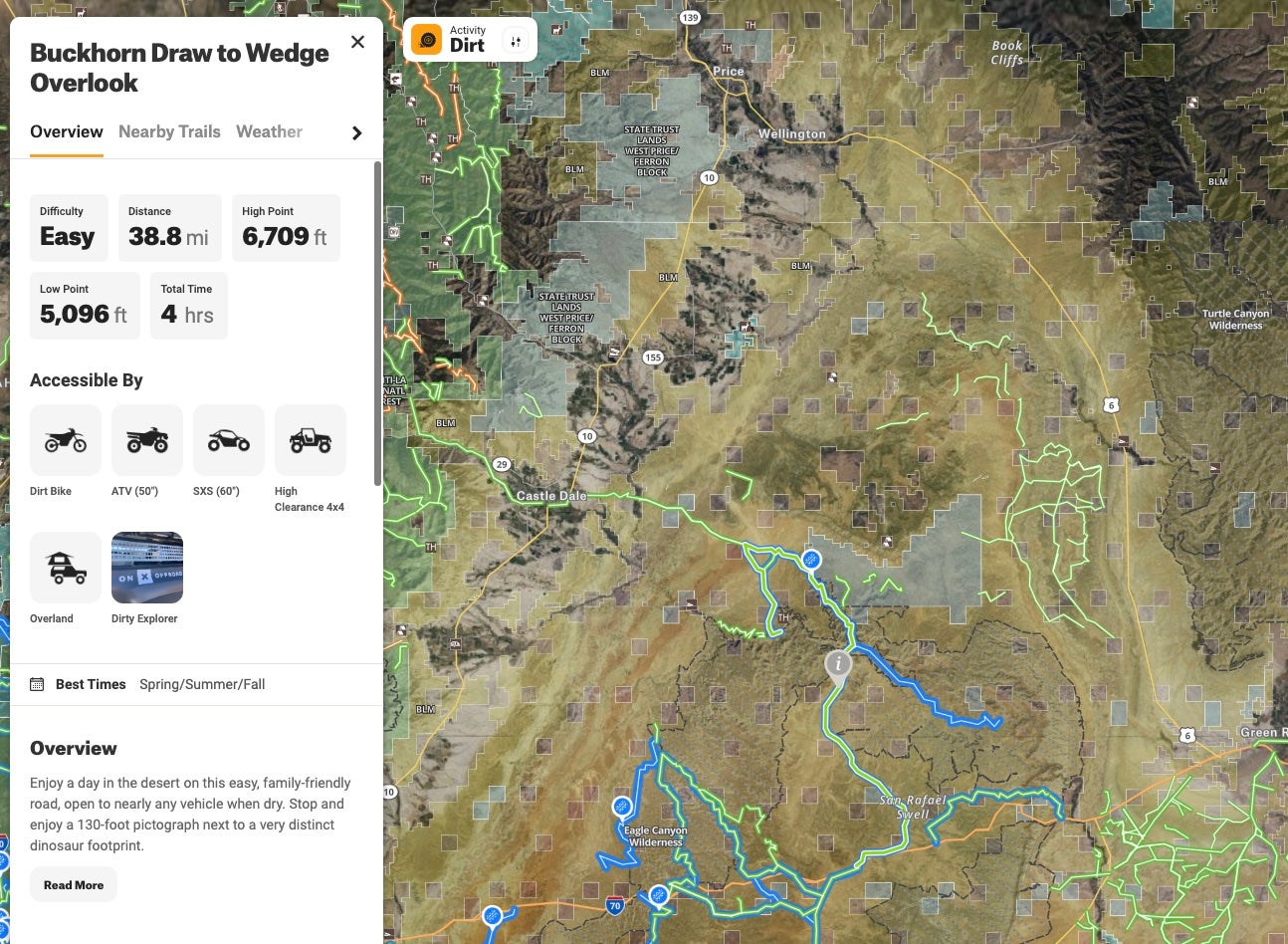 Normally, I would cut north from Moab and head to Price (and from there to Salt Lake City). Looking at the map, I can instead stay west on I-70 and then head off-road on the Buckhorn Draw to Wedge Overlook which boasts a 130-foot pictograph and dinosaur footprint. That will take me four hours. Looks like there are some good backpacking trails around there, too, but I won't have *that* much time to explore.
Then, on my way out, I can continue west on County Road 401 (for a little over seven miles) which will take me to Castle Dale. There, I can refuel and head north on State Road 10 back up to Price. There is a minimal elevation gain.
Figuring that this little diversion will add on about six hours or so to the trip, I will plan on leaving Albuquerque around noon on Saturday. There are some good dispersed camping spots just north of Moab that I like so I will stay there for the night. On Sunday morning I will take my side trip to go visit pictographs and dinosaur footprints, before making my way to Salt Lake City.
Whether or not Weather is Important
I can also check out the weather in the area through the app. The app gives me details like precipitation and sunrise/sunset. This makes a difference as the overview states accessible when "dry." My vehicle is pretty capable, but I've also been in some gnarly Utah mud before and have no desire to turn a four (to six) hour diversion into a recovery slog.
I have to pick up the other instructor at 10am on Monday, and from there we will push up to Couer d'Alene. So, again, if the weather was looking to be wet, I might decide against the route just because I have a time hack that I cannot miss.
How much Food and Water should I pack?
Once you have an idea of how long you are going to be in the backcountry and how close you are to the nearest town, you can make an estimate for the amount of food and fuel you need to pack.
Food is such a variable thing and is based on your ability to carry it. Do you have a 12vdc fridge or an ice chest? Do you only carry dry foods? How much potable water do you carry? How many meals a day do you eat? How many people are you feeding? Are you bringing your four-legged friends? I personally like a simple breakfast (meaning minimal clean-up in the morning before hitting the trail), snacks for lunch, and a decent dinner.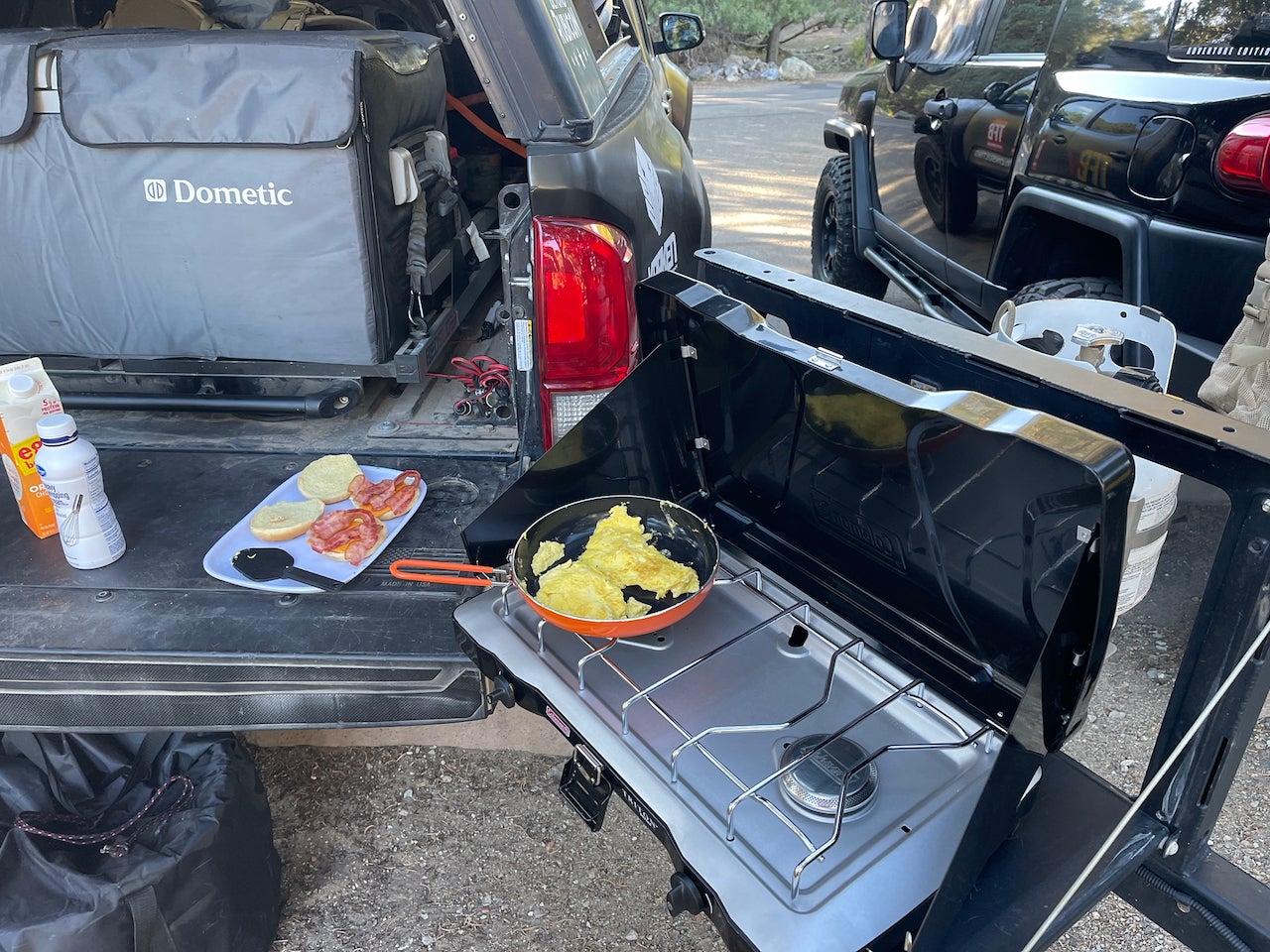 I carry a Front Runner Footwell Water Tank which holds about 10.5 gallons and lasts about five days. This gives me about two gallons per day for clean-up and hygiene (and putting out campfires left by idiots). I'm a snoot when it comes to drinking water and I pack bottled water for that. The tank is an emergency source, if needed.
For this trip, since I am planning an overnight and some playtime I will take a couple of extra days of food. My water tank will provide plenty of water for this trip.
How much Fuel should I bring?
I generally think of my fuel needs how aviators think about it – and factor in a point of no return. Whatever distance I want to go, I make sure I can reach that point with at least a half tank of gas (the reality is that I buffer that by an additional 10% minimum). That way I know I have enough fuel if I have to turn around. I don't violate that rule. Ever.
If I am planning a through trail (rather than an out and back), I make sure I have enough to pass the whole distance with a margin of error. Sometimes I can do this with the fuel onboard, sometimes that means adding on some additional external fuel sources. Additionally, if there is going to be a challenging portion on a trail, I make sure to have enough gas to go back if the obstacle is impassable.
This route doesn't appear to be super long, and as long as I fuel up in Moab and then in Castle Dale, I should be fine. I always bring at least a 5-gallon jerry can so I do have some backup (though I've used that to help out stranded people more than I have for myself).
Offline Maps – Don't Forget to do this…
Even though cell service is great (especially with cell boosters like the Weboost OTR), and Mr. Musk is saturating the planet with Starlink, there are plenty of places where coverage is non-existent. That is why you should ALWAYS download maps to your devices for offline use.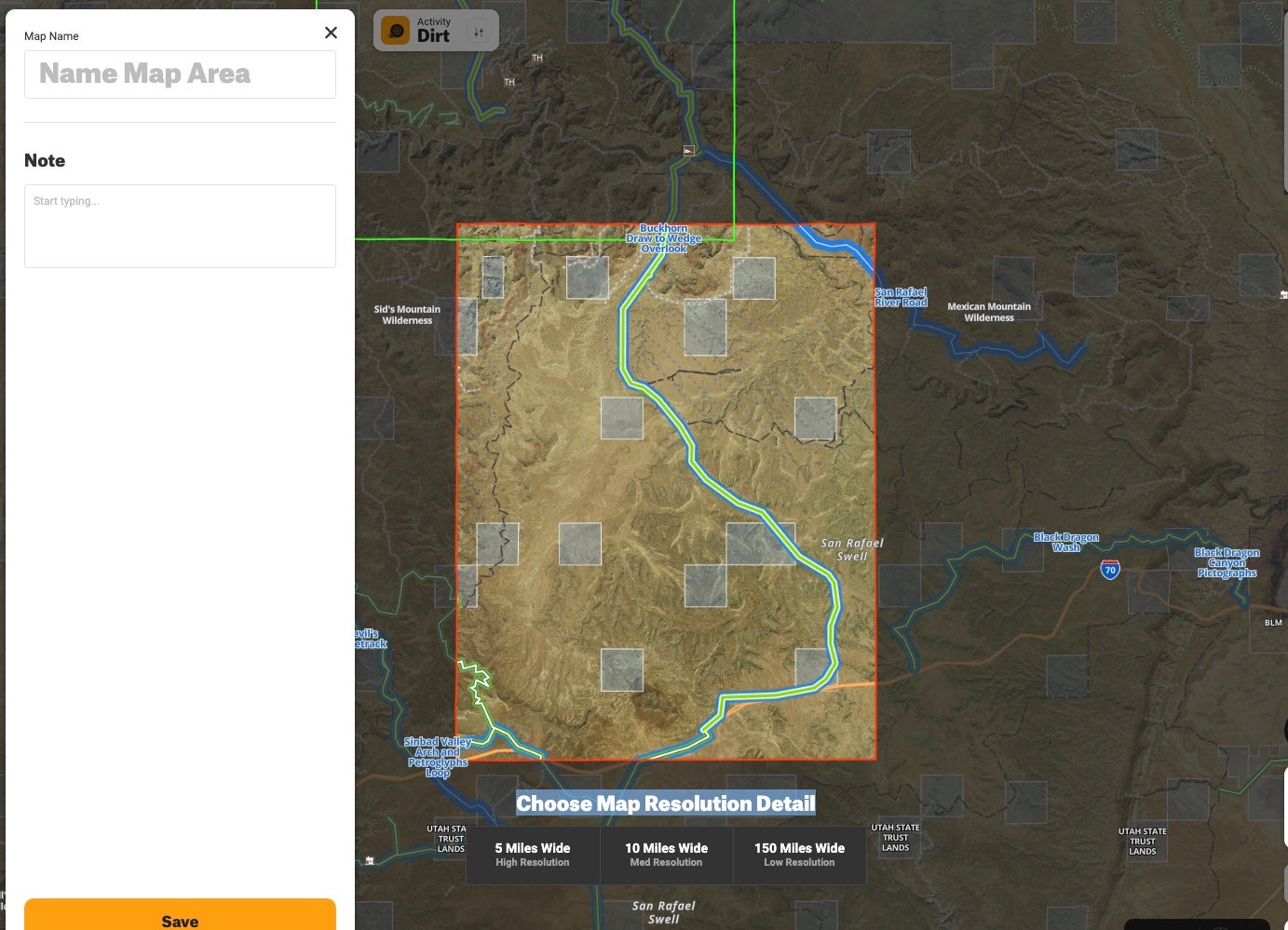 Offline maps in onX are easy. You select your resolution, name the map (otherwise it will use date/time), and save it. If you want to save more areas, the app conveniently shows you the overlapping area with a green border. These will be saved on your account, but you will have to sync and download them on each device separately – it will not auto push to each device you use.
Paper Maps; Technology Fails
You should also carry paper map backups. Technology fails. Being prepared means being ready for when things don't go to plan. I don't think I have ever had a single trip that didn't have something change. Trails get washed out. Vehicles take unexpected damage. You find that perfect spot and decide to spend a few days there instead of continuing on.
I carry the Delorme Atlases as my paper maps and will carry ones for each state I will travel through.
End
Knock on wood, I have never created a plan that got me stuck or required me to abandon my vehicle to get help. I chalk this up to good planning. There is no reason to push the limits and put yourself or your equipment at risk – definitely not in the realm of overlanding. The point is to explore and travel. If you want to pop your rooftop tent above Hell's Revenge, attempt Poughkeepsie Gulch in a top-heavy rig, or do other extreme stuff, you might be in a different class of off-roaders.
As you can see, in a very short amount of time, I was able to plan to take advantage of an available side route using the onX Offroad map. I did the search on the website app, saved the details, and those saved routes were copied to my phone and tablet. I saved trail maps for offline use. I checked the weather to make sure the trail was within my risk parameters for this trip.
Obviously, you will want to bring clothing appropriate for the environment, some other tools, and repair kit items.  This post is more about impromptu planning and some notes about consumables.
Assuming I can get out of town on time on Saturday, I have a fun diversion planned. I might even remember to get some good pics which I will post on social media – though I am terrible about "gramming" my trips. I'm usually to busy enjoying the journey to pose for some photos…
Have you used onX Offroad to trip planning basics? Let us know in the comments…