Luke Cuenco, Brian Miller and I visited the Great American Outdoor Show 2022. This is possibly the largest NRA sponsored show (other than NRAAM?).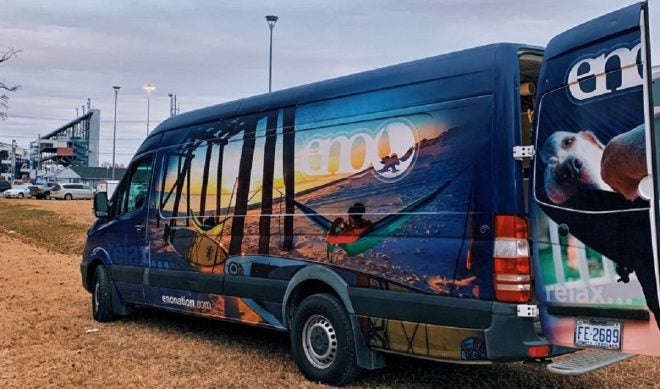 Luke Cuenco, Brian Miller and I visited the Great American Outdoor Show 2022. This is possibly the largest NRA sponsored show (other than NRAAM?). I visited the Eagle's Nest Outfitter booth (AKA ENO Hammocks) and got more than I bargained for.
You all know I think sleeping off the ground is only for serial killers or sloths, but their representative Dominique may have changed my mind…
Company Info: Eagle's Nest Outfitters Inc. (ENO)
Destiny of Eagle's Nest Outfitters told me a story of how the company was started out of the back of a van and traveled to music events across the country to sell their gear at the turn of the century. ENO was the company that developed the first knot-less hammock suspension system and they remain dedicated in making hammocking/camping easier and more fun.
Today, their product line includes more things than just hammocks including chairs, tote bags, outdoor games, and blankets.
ENO reports they're as dedicated to sustainability and environmental protections as they are to making gear people love.
Eagle's Nest Outfitters products come with a Two Year warranty from original date of purchase. They'll also do repairs on some types of damage.
Products
The ENO booth had a plethora of classic and new products. Some of the most interesting to me were: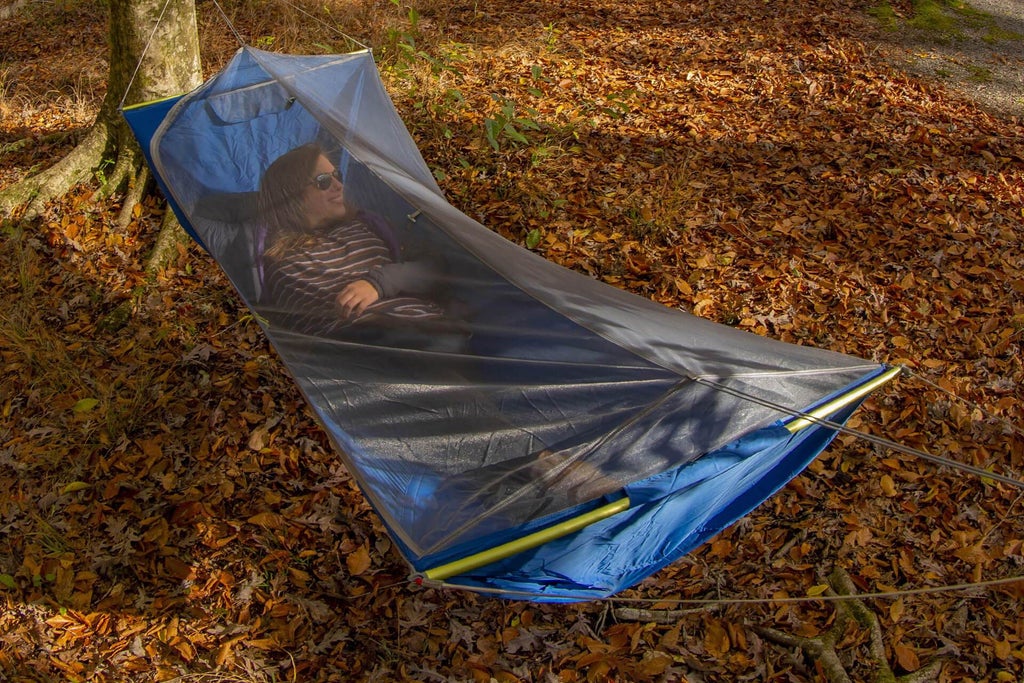 The Skylite is a 910g (2 Lb) system to have your hammock and bug net contained in one package. It contains spreader bars to increase comfort and space. Those spreader bars make me wonder whether I'd be able to devise something to use my hiking poles instead of the green anodized poles included with the kit. That'd save what, 200g of weight?
MSRP: $169.95 USD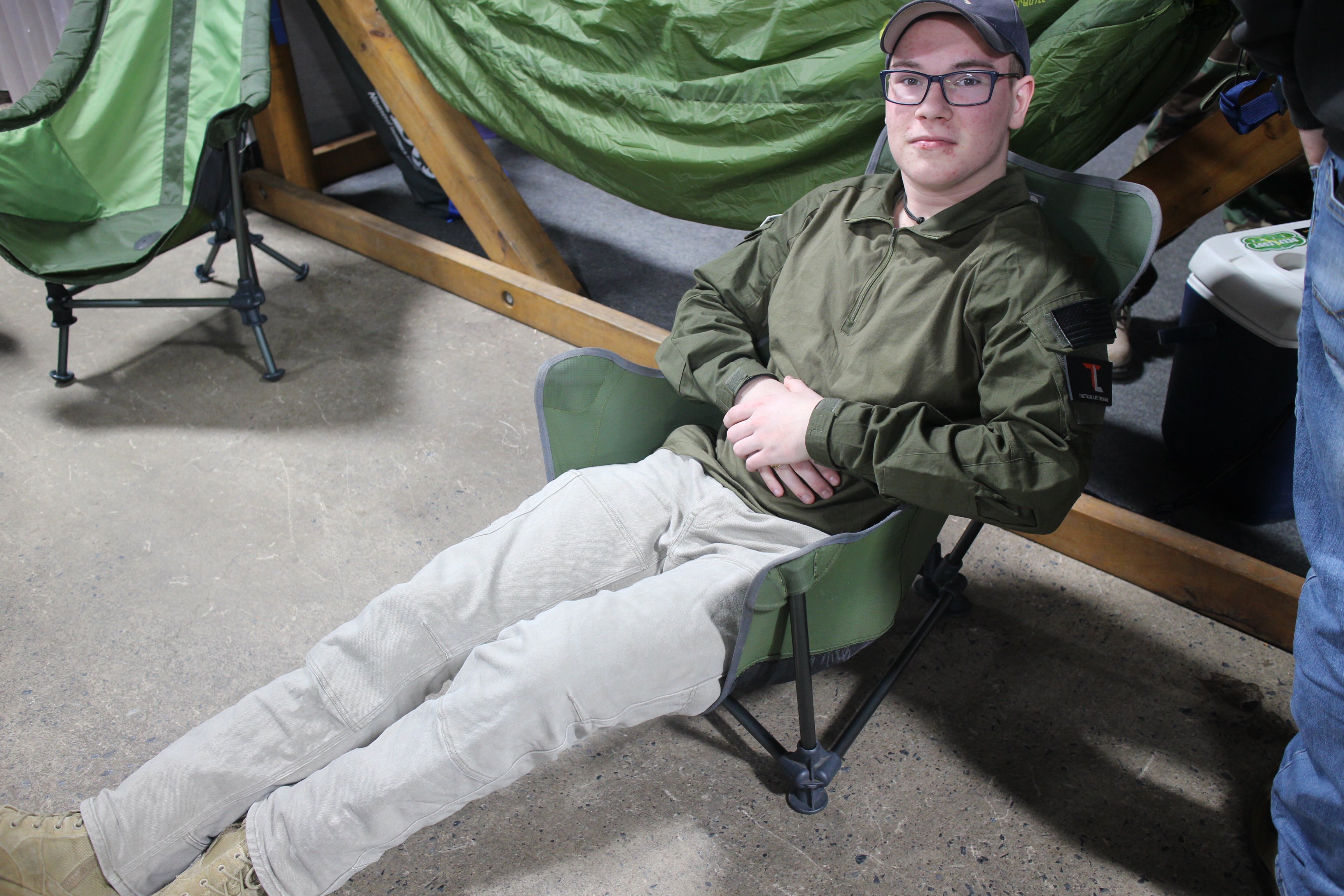 For low-set chairs, the Lounger SL looks to be as minimalist as you can get when your main focus is comfort. This is definitely a car-camping item as it weighs 1,600g (3.52 Lb). I could imagine flexing on friends at a KOA campground when whipping this thing out while cracking open a sour or having some smores. Definitely not for backpacking, but is built like a brick shit house.
MSRP: $94.99 USD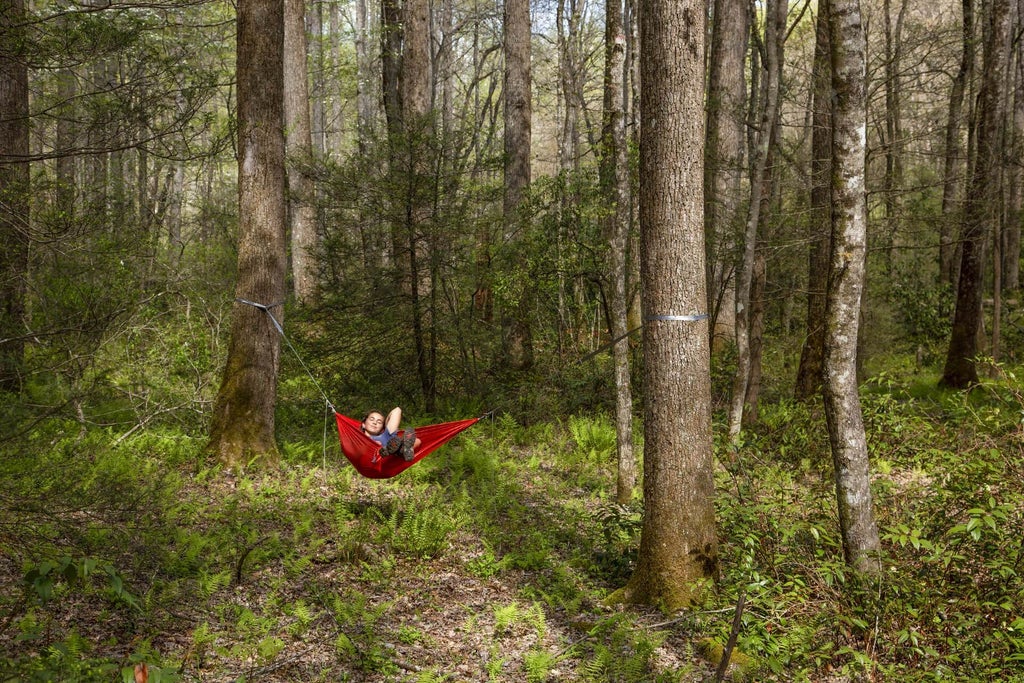 This hammock piqued my interests with it's weight specs and price. Coming in at 164g (5.8 Oz), and packing down to the size of really big grapefruit, this could fit in anyone's pack even if you were tent camping (Helios XL straps would double the weight). With this and an underquilt, I think you would be well suited in a three season situation where flat land couldn't be found. This brings me back to wandering around Cranberry Wilderness for a half hour looking for a spot to pitch… and was that annoying…
MSRP: $69.96 USD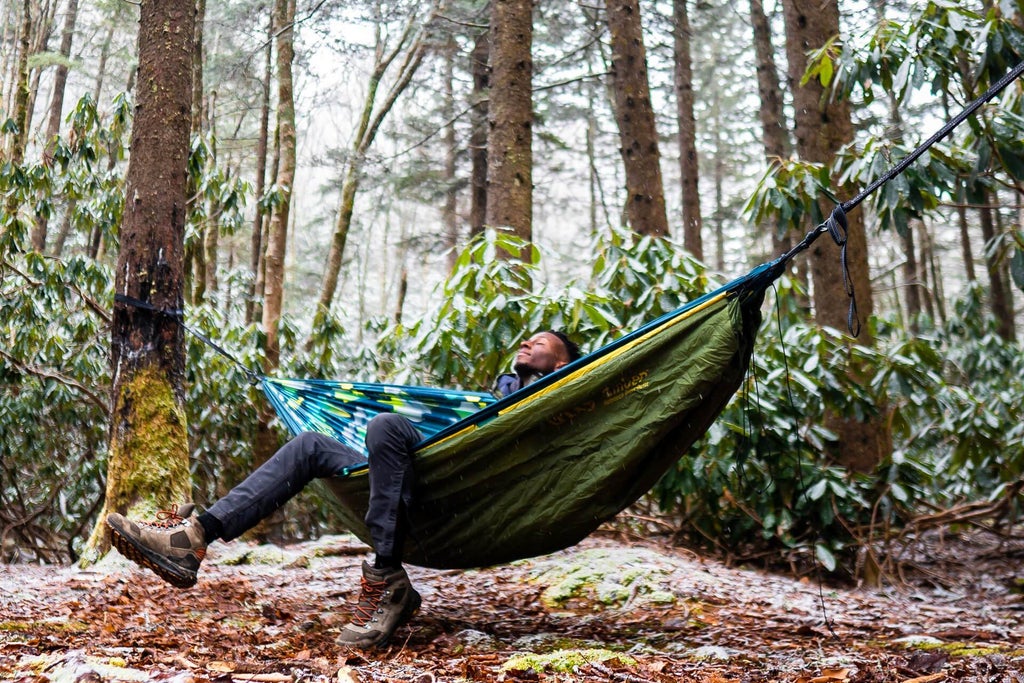 Full disclosure, I have yet to delve into hammocks enough to understand the idea of an under quilt versus just using your sleeping bag, but my assumption is that not compressing your sleeping bag against you and the walls of the hammock allows better insulation. Feel free to correct me if I'm wrong! Having an underquilt on the outside of your hammock provides an air pocket that will hold the heat your body lets off a bit longer than without.
The Ember UnderQuilt is rated for 40*F – 60*F weather by itself. Weighing 754g (27 Oz), it makes me wonder how low of a temperature I could take this under quilt to with a sleeping bag inside of the hammock with me. Packed size of this item does worry me, if carrying with other large items. (Packed Dimensions: 13.25″ x 7″ x 7″) ENO does sell down versions at a premium if space saving is desired.
MSRP: $109.95 USD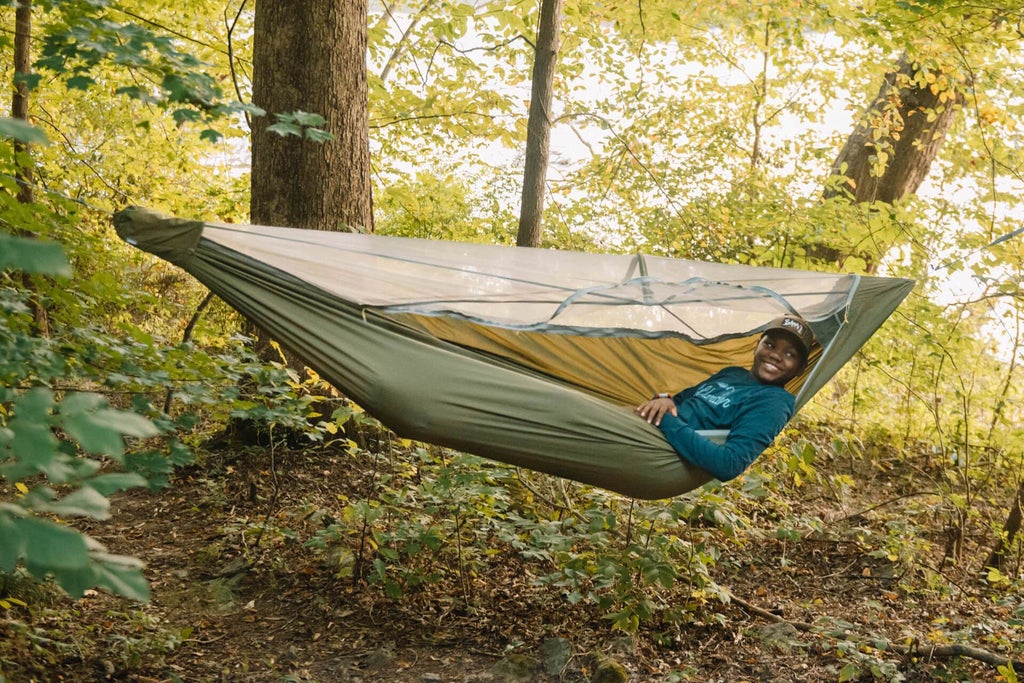 Just like Alton Brown, multitasking items are my jam. A hiking pole that works as a monopod? Sign me up! A fork that works like a comb, a la Little Mermaid? Been there, done that. Having this hammock work not only as the hammock itself, in addition to a bug net saves time with setup. The benefits of less storage space required as well as lower price cannot be denied.
In the mountains, I am always dealing with critters on the ground, like ants or flies and mosquitos when close to water… especially in the shade.
Having a net to keep those buzzy bastards off of me is not a choice, but a requirement. Coming in at 567g (20 Oz), this item doesn't really save you weight as compared to the Sub6 and Guardian SL items with them coming in at a combined 419g (14.5 Oz). The Junglenest is roughly $5 cheaper than buying both of the aforementioned items together ($114.91 USD), which isn't much to talk about either way… Somehow I still like the idea of it.
MSRP: $109.95 USD
IMAGE SOURCE: ENO Hammocks

One kit to rule them all, one kit to house them,

One kit to bring them all, and in the wilderness comfort them;

In the Land of Alloutdoor where the adventurers lie.
No, Tolkien wasn't thinking about the Sublink Hammock System when he wrote Lord of the Rings. Having all your gear stuffed into one package is way more fun than reading the Silmarillion, for instance? What's included?
That's a total of $269.85 USD if purchased separately, but the MSRP for this kit is $249.99 USD. I feel this is the way to go if you're even slightly interested in the Silnylon tarp at all.
ENO sells little doodads like lights and lanterns too.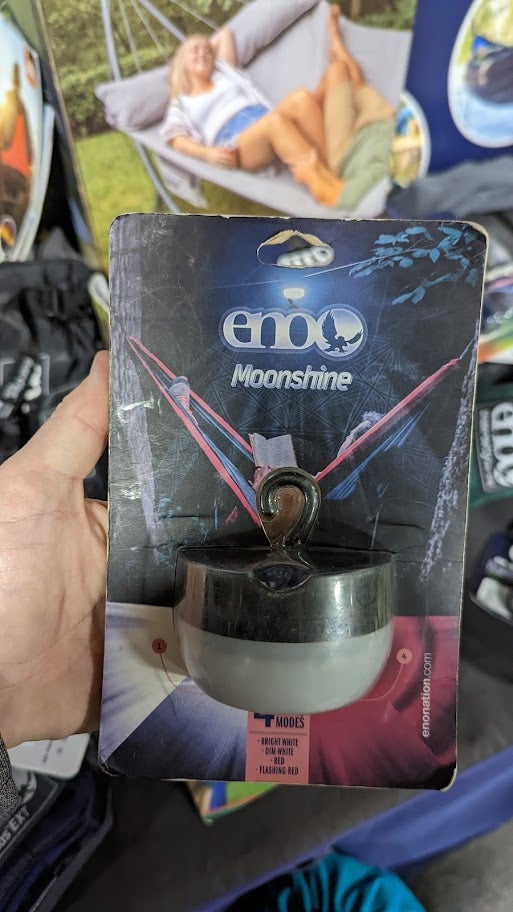 Observations
Seeing these products in person has led me to believe there may be some validity to hammock camping. After this trip, I have interest in the idea of hammocks as opposed to my previous disdain for anything suspended off the ground.
Would AllOutdoor readers want me to dive into the world of hammocks? (No, not World of Warships…)
Check out our videos on Tiktok!: https://www.tiktok.com/@alloutdoorcom/video/7062126112091999534