Fish Dip is probably my favorite way to eat King Mackerel. It is a great way to use those large smoker kings or frozen king mackerel you packed aw
Fish Dip is probably my favorite way to eat King Mackerel. It is a great way to use those large smoker kings or frozen king mackerel you packed away in the freezer. These larger fish taste a bit stronger than the tastier small "snake or schoolie" kings but make an excellent dip.
The same goes for frozen king mackerel, once you freeze king mackerel it's just not the same. Even in the -80 super freezer at work, once it's defrosted the texture just isn't the same. But this all doesn't matter when it comes to fish dip, because you're going to break apart the fish and use a dressing. You can use smoked kingfish or cajun boiled kingfish like I am this time. It doesn't even have to be king mackerel, any slightly oilier fish like bluefish, or mullet make great fish dip.
I want to be 100% clear that this is not a recipe I came up with myself. This is based off of Ms. Pat's famous recipe. If you fish the piers in the Panhandle area you know who Ms. Pat of Okaloosa Island is and know how popular and loved she and her cooking is.
King Mackerel Fish Dip Ingredients
2.5lbs of King Mackerel, boneless and skinless
Cajun Crab Boil
1 Lemon
Hot sauce
Garlic minced or pureed
1 Green Bellpepper -2 cups
1 Sweet Onion – 1 cup
1 Stem Green Onion
4 stalks of Celery – 2 cups
King Mackerel Fish Dip Dressing Ingredients
1/2 cup Ranch Dressing
1/2 cup Vidalia Onion Dressing
3 tablespoons Spicy Mustard
1/4 cup Relish
2 teaspoons Horseradish
2 tablespoons Chopped Pickled Jalapenos
I recommend starting off with prepping and cooking the king mackerel. First, get a pot big enough to fit all the king mackerel into, and then add your favorite cajun boil. I like to juice a lemon into it and put the halves in along with some pureed garlic and hot sauce.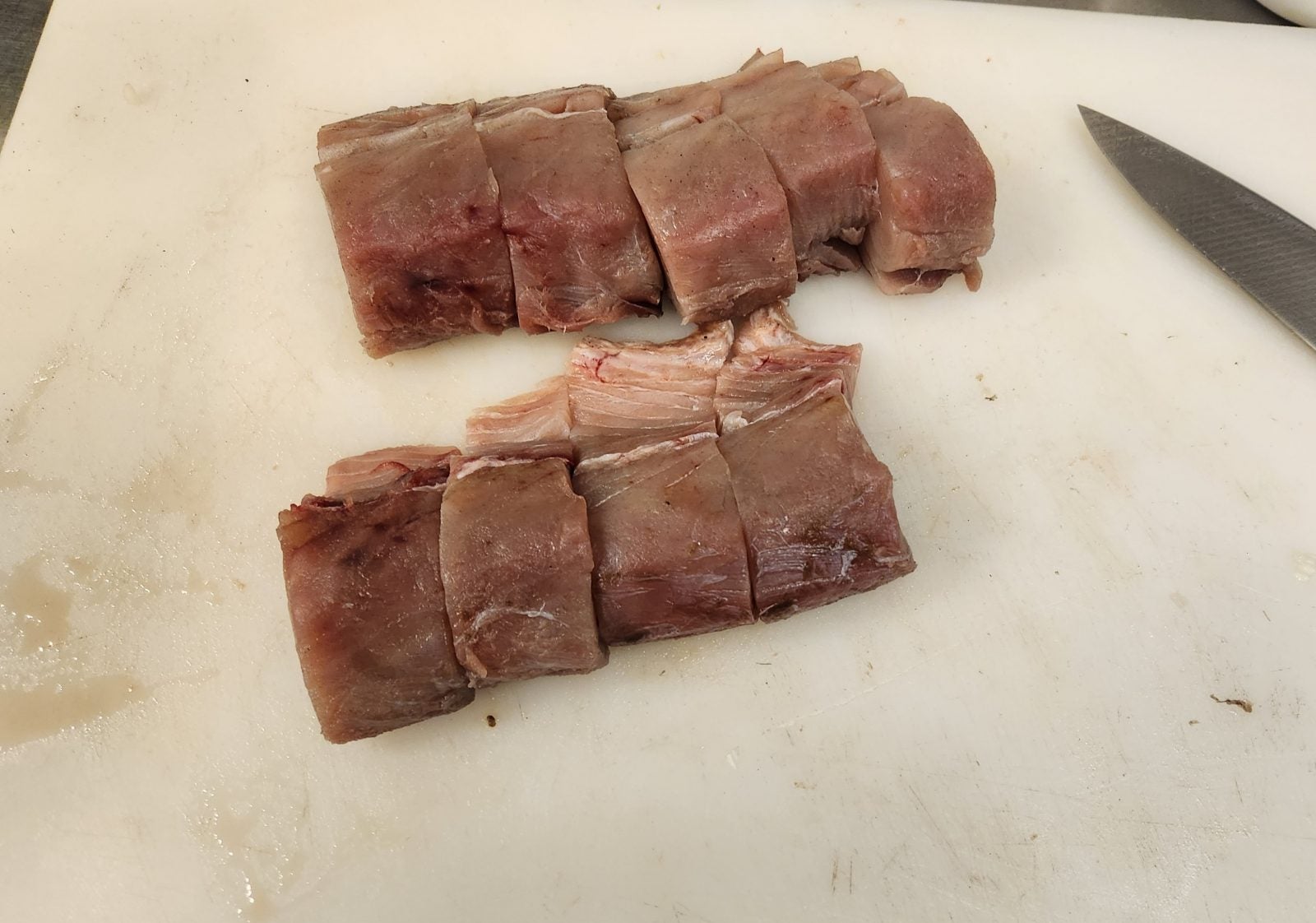 Leave the pot to boil while you prep the king mackerel. Get a piece of skinless boneless king mackerel and cut it up into chunks. You can trim the bloodline, but honestly, I don't mind it or think it matters. Then get those chunks into the cajun boil and cook for about 20 minutes. When it's done take it off the heat and let the fish soak in the boil for 20 more minutes.
While the fish is cooking prep the vegetables. Dice up the bell pepper, sweet onion, and celery. For more color, you can use half and half sweet and red onion and half and half green and red bell pepper. Then dice up the green onion thinly and put all the vegetables all to the side.
Next, it's time to work on the dressing of the fish dip. In a separate bowl from the vegetables, add a 1/2 cup of ranch dressing, I like Hidden Valley but use what you like, a 1/2 cup of Vidalia Onion Dressing, and 3 tablespoons of Spicey Mustard. Mix together and taste and adjust to your taste. Then add the relish, horseradish, and chopped pickled Jalapenos. Again mix and taste, you can also optionally add some liquid smoke to the dressing at this point if you want.
Once the king mackerel chunks are done, scope them out of the boil and put them in a bowl, and break all the fish chunks down. Reserve some of the cooking liquid though, once the fish is all broken up add a little bit for moisture. Then chill the fish. Now all the parts are prepped its time to mix it all together
Add the prepped vegetables, fish, and dressing together. Don't add all the dressing at once though, you might need to hold some back or add more depending on the texture of the dip. Add some pepper and paprika for taste and color then mix it all together till is evenly mixed. Taste, and if bland add some Tony C's or Mrs. Dash to taste. If you already have some smoked kingfish already you can use that instead of using boiled king mackerel as I did.
Once you got everything mixed up well, wrap it up tight and let it sight in the fridge for a few hours, this will let all the flavors mix together as the vegetables start letting moisture out. Once that's passed serve it with some crackers or tortilla chips, along with some pickled jalapenos. I will warn you though once other people learn that you've made some of this fish dip, they'll be at your door pretty quick looking to get a share.