Morgan Rogue   11.11.22 I'm a big fan of having generators for camping and emergency preparedness. We have used our solar generators for all kin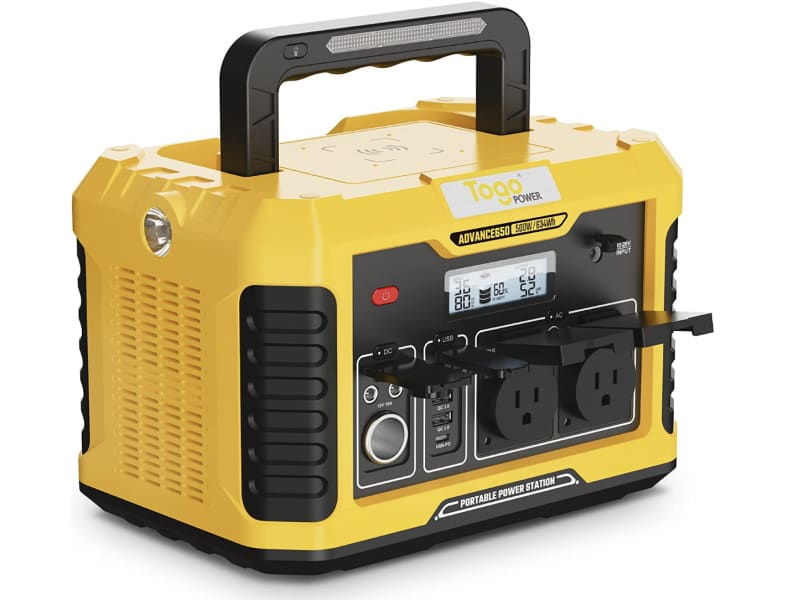 +
–
Table of Contents

1. Jackery Solar Generator 240
Jackery is a brand that we can trust as they have been providing high quality generators for a long while now.
This one comes in at having an output of 240Wh. It also comes with a 60W solar panel.
You can charge with the panel, your car, a gas generator or you can even just keep it plugged into the wall at all times. And when the lights go out, use it! It can also be charged while in use.
Charge your phone, laptop, tablet or small light. Since it comes in at 240W, it won't support a lot of larger wattage items like fridge, but it may actually keep your freezer powered. If your freezer runs at 50W an hour, you could keep it charged for a few hours, at least.
Lastly, comes with a lithium battery!
Pros/Easy to carry, comes with solar panel, lots of ways to charge it
Cons/
Bottom Line/High quality power bank to have for any occasion
2. Anker 521 Portable Power Station
Anker is a reliable brand and their power banks are no exception. This has a 256Wh battery capacity. They come with the LiFePo4 battery which has a much longer lifespan than typical lithium.
Charge a mini fridge, possibly your freezer (for a short time), phone, tablet, camera, air pump and small wattage fan.
Pros/LiFePo4 battery, reliable brand, easy to carry and use
Cons/
Bottom Line/Reliable product to have on hand
3. BLUETTI Portable Power Station
This Bluetti has a LiFePo4 battery capacity of 537Wh, larger than the other two mentioned.
Like the others, this can be charged multiple ways, such as with a solar panel, wall, car and even another generator.
This can charge quite a few things for much longer because of it's larger capacity.
Pros/Larger capacity, LiFePo4 battery, charge multiple ways
Cons/
Bottom Line/Great price for such a large capacity
4. OUPES 600W Portable Power Station, Solar Generator 595Wh
This is pushing the $500 mark, but I promise it's worth it. This also used the LiFePo4 battery with a capacity of 595Wh.
I love the display on this one. It tells you everything you want to know in nice big numbers. Telling you all the input and output. Like the others it can also be used while charging and it can be charged in many different ways.
Charge your phone, tablet, laptop, fan, CPAP, lights even a freezer.
Pros/Large battery capacity, huge display, charge a variety of things
Cons/
Bottom Line/Honestly one of the best out there for such a great price.
5. Togo POWER A650 Portable Power Station
This is also pushing the edge of $500, but totally worth it. It has a 634Wh capacity making it the largest capacity for under $500.
I love Togo and all of the features it has.
One thing that really differentiates Togo from the others are the covers for every single port. They're robust covers, too. They're made of plastic, not just flexible rubber or silicone. They're solid.
It also offers a wireless phone charger on top. It's fairly lightweight and easy to move around.
Like the others, you can charge multiple ways and use while charging.
Pros/Wireless charging, large capacity, port covers
Cons/
Bottom Line/Quality product with large capacity
Which one is your favorite?
You can get a really decent solar generator with quite a lot of capacity for under $500. Many of these didn't come with solar panels so those will need to be bought separately, but one of the best ways to keep them charged is to simply plug it in and keep it plugged int. It won't hurt any of these to keep them plugged in as they have a safety to keep them from 'over charging'.
So keep them plugged in and when you can afford the panels, get those, too! Never hurts. And they can also be charged via your car! Pretty cool.
Enjoy your new solar generator, whichever one you choose!
We are committed to finding, researching, and recommending the best products. We earn commissions from purchases you make using the retail links in our product reviews. Learn more about how this works.